The idol drama from CTV and GTV "Love Keeps Going" completed its airing perfectly with high rating of 2.93, where the rating among the category of 14 – 25 years old female audiences exceeded 7. The young female audience category rating defeated the "Office Girls" drama by TTV and SETTV, ranked first in the country.
However,many viewers felt that the last episode has became "Yi Le Jia You (Go Go)" instead of "Mei Le Jia You (Go Go), because the Han Yi Lie played by Mike He is between life and death in the whole episode.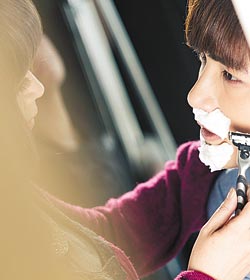 The last scene of the drama jumped 6 years later directly, and various scenes that followed had audiences wrongly assumed he was dead, and the characters in the drama was going to clean up the tomb.
The drama does not make clear whether Yi Lie is saved from death or not, but after 6 years all the characters wore clothes in black, some with flowers on hand, all these leaded viewers to guess that the surgery had failed. Until the final scene showing the ticket to his concert, the true answer was only revealed. Although most viewers realized the fact, but they also criticized the ending as too hasty, at least have to let Yi Lie to come out once.
via chinatimes.com