The CTV idol drama Love Recipe had been given a lot of publicity before its debut, but after the TV series starts airing, the ratings are far below expectation. The ratings of other dramas on the same time slot, Office Girls, In Time with You and Ring Ring Bell have been increasing on every new episodes, but the rating of Love Recipe has even fell to 0.18 on the 9th episode that aired on October 18th, 2011, setting one of the record low for idol dramas, just ahead of lowest rating of "They Are Flying."
As such, the content which is originally scheduled to broadcast in 13 episodes is now been cut short to 10 episodes. The result of crazy cut and editing is that it's even harder for viewers to understand the drama, and even harder for the ratings to raise.
Love Recipe is starred by Kenji Wu, Li Jia Yin and Li Jia Yin (Gui Gui). It's the first drama of Kenji Wu after 9 years. Kenji Wu who is determined to have a successful work in drama have failed again. Actually the response to Love Recipe by netizens is not bad, but unfortunately due to wrong timing, it couldn't fight with dramas on other TV channels. In addition, the practice by CTV to cut the scenes without logic on the drama debut episode had helped to push the audience to switch to other channels.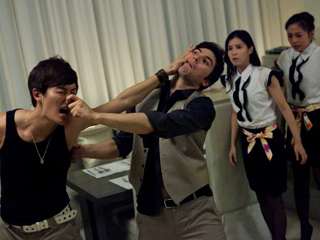 Love Recipe will complete its airing of 10 episodes at November 6th, 2011 instead of originally scheduled November 27th, 2011. Some netizens have blamed the overdone cuttings that wasted the efforts by the actors and production crews. The cut is exaggerated to the extent that they're not even try to conceal the traces of editing. Actually, the previous idol drama by CTV, Love Keeps Going, had also been modified severely, although the ratings were good, but at the later stage it was not able to escape the fate of been severely cut, in particularly many scenes transition is directly faded in and faded out. Recently the Friday drama series "Next Heroes" has also been cut by 10 minutes.
In addition, the acting of Kenji Wu has also been criticized as too lousy and overacting. In his every scenes, he is criticized as trying to act smart.
In response to Love Recipe been cut short to 10 episodes, CTV said, "We will adjust the number of episodes based on situation specific to each series after the drama is aired." But the full version video of the successor which fills the slot, Men Dang Fu Bu Dui, has already been leaked on the Internet. Whether it will affect the ratings or suffer the tragic fate of splicing, the outcome will be due in a few weeks.
via Nownews