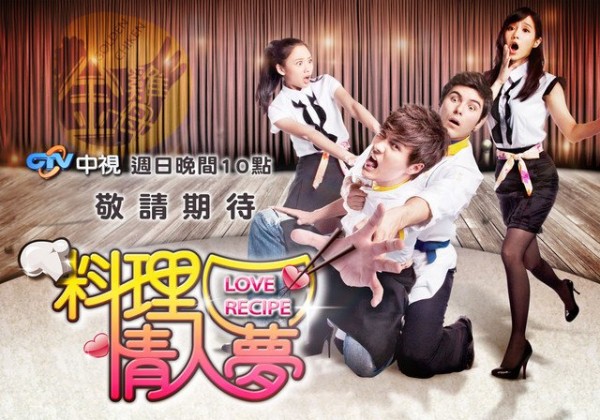 Drama Title: Love Recipe
Also Known As: Liao Li Qing Ren Meng
Chinese Title: 料理情人夢 / 料理情人梦
Originally Known As: 百年好合
Genre: Romance, Comedy
Language: Chinese
Episodes: 10
Broadcast Place: Taiwan
Broadcast Network: CTV / STV
Broadcast Period: 4 September 2011 – 6 November 2011 (CTV)
Air Time: Sunday 22:00 – 23:30 on CTV / Friday 21:00 – 20:30 on STV
Cast
Kenji Wu (吳克羣) as Fu Yong Le (傅永樂)
Li Jia Ying (李佳穎) as Li An An (黎安安)
Rhydian Vaughan (鳳小岳) as He Xia (何夏)
Wu Ying Jie / Gui Gui (吴映洁 / 鬼鬼) as Wang Mei Ya (王美亞)
Xie Qiong Nuan (謝瓊煖) as Wang Shu Lan (王淑蘭)
Xiu Qin (琇琴) as Bao Yi (寶姨)
Wang Yu Rou (王予柔) as Qiao An Aa(喬安娜)
Zhu Lu Hao (朱陸豪) as He Xin Ming (何新民)
Yang Li Ying (楊麗音) as He Fang Xiu Yan (何方秀燕)
Jack Lee (李運慶) as Shi Yuan (始源)
Wang Jia Liang (王家梁) as Ke Dou / Tadpole (蝌蚪)
Xie Qi Wen (謝其文) as A Bu La (阿不拉)
Plot Summary
Love Recipe is a idol drama to celebrate centennial of CTV, and is centered around Taiwanese food, plus two love lines between two lead actors and two lead actresses.
Synopsis
Long long time ago, there were two small male and female children who lived in rural area. They lived opposite to each other, and then they're about the same age, so they got closer and closer. On the year of 18 years old, they secretly fell in love without letting their parents knew about the relationship.
At that time, everybody is poor, and it's satisfying to be able to be fed. But in this little lover's mind, there is something different. They are thinking of how to prepare a delicious dish that makes people happy with cheap formula.
So night and day, from morning till evening, driven by intense love, they finally managed to cook an amazing chicken dish with a unique recipe.
They started to do small business as street vendor, business is good, and a better future seemed like around the corner. Unexpectedly, both parents forced involvement and destruction caused an accident, and they couldn't be together forever after all.
The woman put away the feeling of sorrow, decided to continue the happiness dish. She had decided that she want to keep the taste, she wants to continue the little stall.
So, from a small roadside stall, business was booming, and she then rented the nearby store, and later bought the store. Years later, the store was putting up an official sign, store name is Golden Chicken (金雞母).
The female boss then got married, gave birth to a daughter, and the daughter married, who is still giving birth to a daughter. Daughter of 3rd generation, 4th generation married again, but they still giving birth to a daughter. Is it because of genetic issue? Or because of the name of the restaurant (the name implies female chicken)? No answer though. The 4th generation descendant Wang Shu Lan is facing the same destiny, given birth to a daughter Li An An.
Generation after generation, the store continues to open for business on the old street, but, time is not to be, Golden Chicken is no longer as well regarded as previously. No to mention its old-fashioned store, there are competitive stores everywhere, and the original flavor had lost, so the store slowly has fewer and fewer customers, the business is poor. When the story begins, Li An An who is unwilling to open the old shop even plans to sell the business.
However, unexpectedly, Li An An not only cannot sell, but she is even forced to hang on the store, and has to promote and develop the store. This year, coincidentally, is the 100th year of the "Golden Cockerel Mother" since opening.
Episode Ratings
| Date | Episode | Rating | Viewership Ranking |
| --- | --- | --- | --- |
| 4 September 2011 | 1 | 0.87 | 2 |
| 11 September 2011 | 2 | 0.67 | 3 |
| 18 September 2011 | 3 | 0.51 | 3 |
| 25 September 2011 | 4 | 0.52 | 3 |
| 2 October 2011 | 5 | 0.42 | 4 |
| 9 October 2011 | 6 | 0.30 | 4 |
| 16 October 2011 | 7 | 0.24 | 4 |
| 23 October 2011 | 8 | 0.24 | 4 |
| 30 October 2011 | 9 | 0.18 | 4 |
| 6 November 2011 | 10 | 0.27 | 4 |
Source: AGB Nielsen
Trivia
The drama is sponsored by Taiwanese government.
The original drama name was 百年好合 (Love For All Seasons) to be in concert with traditional image of 100 year-old shop in the drama, and was originally set to be the 8 PM primetime program. Later, the drama type was changed to idol drama, and the title was change to a more romantic name accordingly.
Watch online with English and Chinese subtitle at viki.com.
Watch online with Chinese subtitle at tudou.com.
News, Interview and Behind the Scene
Photo Gallery