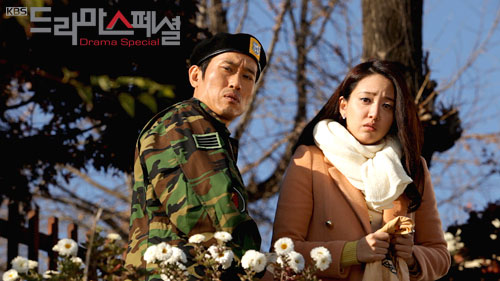 Drama Title: My Wife Disappeared
Korean Title: 아내가 사라졌다
Revised Romanization: A-nae-ga Sa-la-jeoss-da
Chinese Name: 妻子消失了
Genre: Drama
Language: Korean
Episodes: 1
Broadcast Place: South Korea
Broadcast Network: KBS2
Broadcast Period: 27 November 2011
Air Time: Sunday 11:25 PM
Preceded by: Sorry I'm Late
Followed by: For the Sake of Son
Plot Summary / Synopsis
A drama about a salaryman in his 40s looking for his wife.
Cast
Jo Hee-bong (조희봉) as In-ho (인호)
Lee Se-eun (이세은) as Soo-jin (수진)
Park Hee-jin (박희진) as Chief of a dong office (동장)
Kim Joon-bae (김준배) as No. 603 (603호)
Yang Han-yeol (양한열) as Se-joon (세준)
Production Credits
Director: Jeon Woo-seong (전우성)
Screenwriter: Han Sang-woon (한상운)
Trivia
The drama is 47th and last part of miniseries for KBS "Drama Special" TV series.
Watch online with English or Chinese subtitle (not yet available).
Photo Gallery