Your Rating
The first part of OST (original sound track) for JTBC's new general programming channel launch celebratory drama series Padam Padam… The Sound of His and Her Heartbeats, or simply known as Padam Padam, has been released on December 5th, 2011. The song in the Padam Padam OST part 1 is In Oder To Live (살기 위해서).
In Order To Live is sang by Noel (노을), a Korean pop band. It's the comeback work of Noel after long separated from music industry for 5 years.
The song title has also been translated to simply as "To Live." The lyric of In Order to Love depicts the passion of man who can sacrifice everything for love. The mature and magnetism voice of Noel realistically portrays the mood of characters in the drama, and a touching love story of the lead male character in despair and lead female character who can get away from past hurt.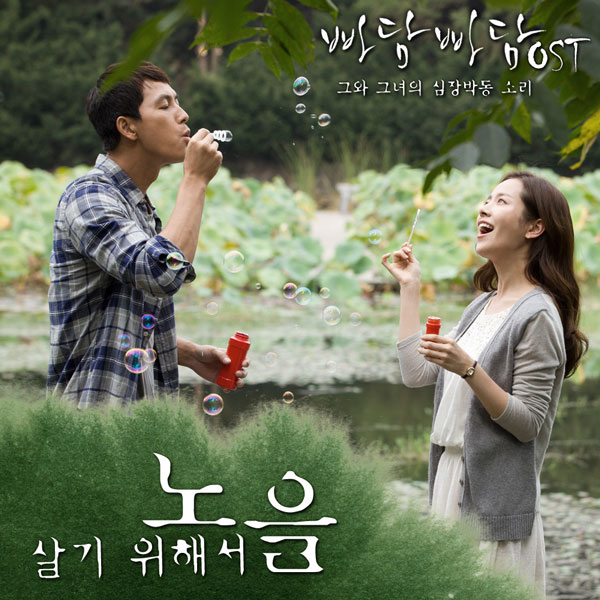 Padam Padam… The Sound of His and Her Heartbeats OST Part 1 Track List
In Order To Live (살기 위해서) – Noel
In Order To Live (살기 위해서) – Instrumental
Watch the official MV of In Order To Live (살기 위해서):
In Order To Live (살기 위해서) Korean Lyric (with Romanization Pronunciation)
내가 이렇게도 가슴이 뛰는 건
naega ileohgedo gaseum-i ttwineun geon
그대가 내 마음에 다녀 갔었나 봐
geudaega nae ma-eum-e danyeo gass-eossna bwa
우리사랑은 또 스쳐가지만
ulisalang-eun tto seuchyeogajiman
세상에서 가장 그리운 사람
sesang-eseo gajang geuliun salam
내가 어느새 그대 이름을 불러
naega eoneusae geudae ileum-eul bulleo
원합니다. 내가 살기 위해서
wonhabnida. naega salgi wihaeseo
그 사랑이 아파도 기다릴께 여기서
geu salang-i apado gidalilkke yeogiseo
사랑이란 멀리 있어도 언젠간 만날 테니까
salang-ilan meolli iss-eodo eonjengan mannal tenikka
니가 없으면 죽을 것 같아서 살기 위해서
niga eobs-eumyeon jug-eul geos gat-aseo salgi wihaeseo
왜 이유 없이 눈물이 났는지
wae iyu eobs-i nunmul-i nassneunji geuleohge
그렇게 가슴 아파야 했는지
gaseum apaya haessneunji jigeum
지금 달려가 꼭 말해주고 싶어
dallyeoga kkog malhaejugo sip-eo
원합니다. 내가 살기 위해서
wonhabnida. naega salgi wihaeseo
그 사랑이 아파도 기다릴께 여기서
geu salang-i apado gidalilkke yeogiseo
사랑이란 멀리 있어도 언젠간 만날 테니까
salang-ilan meolli iss-eodo eonjengan mannal tenikka
니가 없으면 죽을 것 같아서 널 사랑해서
niga eobs-eumyeon jug-eul geos gat-aseo neol salanghaeseo
두 번 다신 못 보게 될 까봐 연기처럼 니가 사라질까봐
du beon dasin mos boge doel kkabwa yeongicheoleom niga salajilkkabwa
난 두려워
nan dulyeowo
원합니다 내가 살기 위해서
wonhabnida naega salgi wihaeseo
날 살게 해준 사람 바로 그대입니다
nal salge haejun salam balo geudaeibnida
눈물마저 고맙습니다.. 그대가 준 것이니까
nunmulmajeo gomabseubnida.. geudaega jun geos-inikka
그리움 조차 나는 행복해서
geulium jocha naneun haengboghaeseo
살기 위해서 널 사랑해
salgi wihaeseo neol salanghae
In Order to Live (살기 위해서) Lyric English Translation
My heart is beating like this
Is probably because you passed through it
Although our love is passing by
You are the person I miss most in the world
Unconsciously I call out your name
I want you. In order for me to live
Even if the love hurts, I will wait right here
Love will meet again someday even though we're far apart
Because if I don't have you, I as if dying, in order to live
Why tears fall without reason
Why my heart hurt so much
I want to run to you right now and tell you
I want you. In order for me to live
Even if the love hurts, I will wait right here
Love will meet again someday even though we're far apart
Because if I don't have you, I as if dying, for the love
Because I may never see you again, because you may disappear like thin air
I am afraid
I want you in order for me to live
The person who made me live is just you
I even thankful for the tears.. because you gave them to me
Even longing for you makes me happy
In order to live, I love you