Chen Bo Lin has a representative drama on his return of Taiwanese drama circle. He plays the role of Li Da Ren in In Time with You which is immensely popular, and has became the synonym with the new good man. Bo-Lin Chen said that he was been called "Li Da Ren" even when he was working on other drama.
The battle between Sunday's idol dramas is heating up. The rating of SETTV and TTV Office Girls surged ahead to 5.97 on episode 12 aired on November 6th, 2011, claiming the top spot comfortably. FTV and GTV In Time with You was catching up, the rating of 3.11. The fans of In Time with You Facebook page has also approaching 200,000 people.
The ratings of hit drama Office Girls broke new record high again. The highest segmental rating of 7.58 happened during the scene where actor and actress in leading role, Qin Zi Qi (played by Roy Chiu Tse) and Sheng Xin Ren (played by Alice Ke Jia Yan), were drawing the design together while enjoying the sweet lover moment.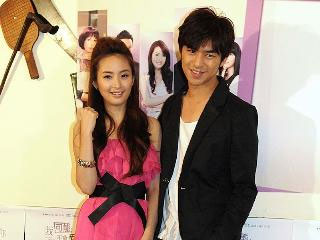 As they have to select 10 designs, from time to time both of them bickers and shows gestures, and the plot was discovered to be adapted from Ip Man movie. Chiu Tse laughed and said, "The viewers are too good, this is the idea from Ke Jia Yan after she watched the Ip Man. We very likes movie, always discussing how to add into the drama, so that the plot can be closer to the daily life."
The In Time with You ratings have broke 3, and also caused the popularity of Chen Bo Lin and Sunny Wang to soar. The plot segments which recorded the highest rating on November 6th, 2011 are Cheng You Qing (played by Ariel Lin) had a fantasy of Li Da Ren helps her to remove the makeup, and Ding Li Wei (played by Sunny Wang) says that he wants to engage with Cheng You Qing.
Chen Bo Lin and Ariel Lin are currently working abroad, and were happy after been informed about the increase of ratings. Bo-Lin Chen said: "The charm of Li Da Ren is really far-reaching, even when working in another work in China, everybody is still calling me 'Li Da Ren'."
Sunny Wang is reuniting and flirting with Ariel Lin in the drama, and been scolded by netizens. But Sunny Wang said, it's all to in line with the arrangement of the plot, the reaction of the viewers who are into the drama is expected, nothing to care about."
via CNA