"The heyday of idol actors" is one of the keywords to describe the recent drama series. KBS's "Love Rain" (Girls' Generation YoonA), "Man From the Equator" (ZE:A Im Siwan), SBS's "Fashion King" (Girls' Generation Yuri), "Rooftop Prince" (JYJ Micky Yuchun) and other currently airing main drama series, idol star singers become the leading actors. With the production of KBS's "Dream High" and "Dream High 2" where the casting was directly selected from idol groups, "idol actors" seem to be a must for drama. From time to time, the idol stars who star in the drama series have been criticized as lacking in acting skills. Some criticizes, "Because idol stars are getting the role not because of strength, but because of fame, it makes the new actors of their age been sidelined." Then, how the professionals in production or planning of drama series evaluate the acting of idols?
Chosun conducted a survey among relevant professionals, asking them evaluate idol stars who are in leading roles recently. The male idols include ZE:A's Im Siwan, 2PM's Taecyeon, JYJ's Kim Jaejoong and Park Yoochun, TVXQ's Changmin. Female idols include SNSD's YoonA and Yuri, T-ara's Jiyeon, After School's UEE, miss A's Suzy. The full mark is 10 points, and the average points given by professional is 6.7 point. So if 100 points is the full mark, it means that they're not even scoring 70 points.
Among the male and female idols, Park Yoochun gets the highest score. The comment is, "Solid basic foundation as an actor in ability to analyze the role, vocal, process the lines and etc." On the contrary, the idol with lowest score if Yuri, the reason is because "not immerse into the drama."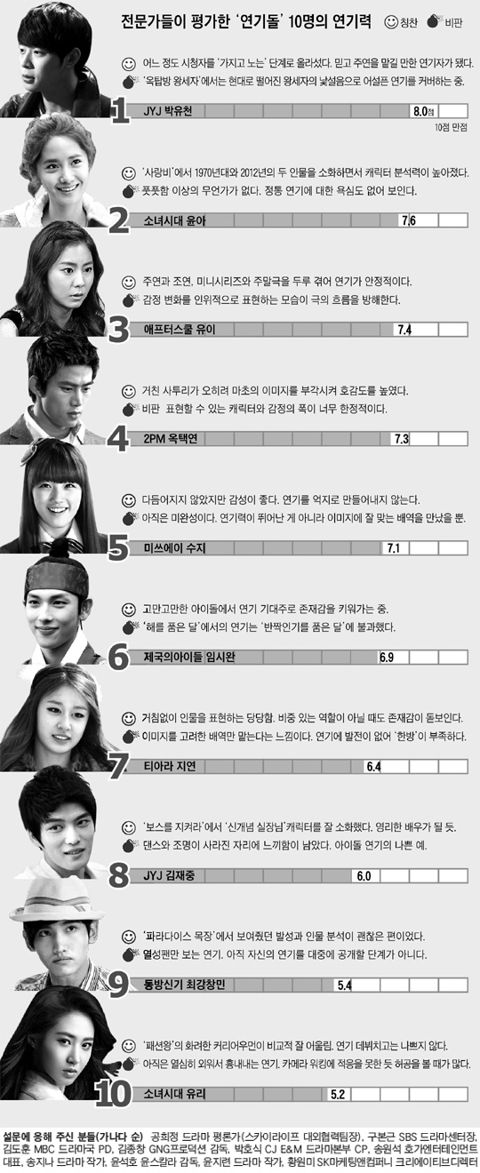 The evaluation by professionals for YoonA is, "Although has basic acting skills, but does not demonstrate the sense of presence in acting just like what's showing when Girls' Generation is at the center." Professionals have reservations on Suzy, "Although Suzy's acting has been questioned in 'Dream High', but her performance in 'Architecture 101' has been praised. So have to monitor in future."
Kim Jaejoong and Changmin rank last among male idols. The comment for Kim Jaejoong is, "The habit of looking at the camera on the stage is not changing when acting." For Changmin, the professionals thought, "As opposed to acting, seem to be more wanting to be a hero." For Taecyeon and Im Siwan, most professionals believe that they saw the possibility for them to grow as skillful actors.
As for the reasons that the appearance of idols in acting increased, some professionals said, "In the intense viewership ratings battle, the producers will of course care about the high awareness of idol stars. Idol actors are mostly the main force of KPOP boom, so their starring in the drama also helps in promotion when the dramas exported to overseas."
But believing the idol actors will guarantee the viewership ratings have been proven wrong sometimes. In March, "Dream High 2" drew down its curtain with 6% low ratings, while ratings for "Fashion King" and "Rooftop Prince" also hovering around 10%. A professional said, "Recently, not sure if it's because of lacking of new actors, it lets people felt that drama series starring by idols is the trend. Comparing with lead actors with higher responsibility, they should start from supporting role or special guest starring, building up the strength through long drama. This is the quality that not only actors, but also singers have to possess in order to success."
via Chosun