The fever of idol drama is spreading, and the topics ranging from fashion, mobile phones, spreading to home furnishings, covering from big items such as bed sheets, sofa and small items such as pillow cases, glasses, have become the popular online inquiry.
In Time with You (I May Not Love You) not only moved the set to inside the store of IKEA to shoot poster shot, the drama also bought large quantities of IKEA furnitures and furnishings. Among them, the small flower bed sheet which lead actress Ariel Lin Yi Chen always lying down n is actually an IKEA product. In the kitchen of Sunny Wang Yang Ming's house in the drama, there is shade of IKEA in pot rack, white porcelain plates, mocha pot and etc.
The mouthpiece of love pillowcase and pajama on the bed of Andrea Chen Kuang Yi who plays the role of ex-girlfriend of leading male character, is from Thailand creative brand Human Touch, which has outlets at Eslite of Ximen-Ting and momo department store.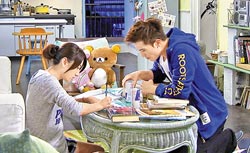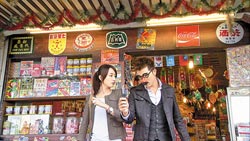 The lazy bear puppet which is always held by Alice Ke Jia Yang in Office Girls, is also attracting high popularity. In HANDS Tailung, it's translated directly from its original Japanese name, and is called "Li Ra bear" (里拉熊). And during she and Roy Chiu strolled the old street of Danshuei on their first dating, they played and enjoyed in front of nostalgic shop, has also caused a craze for retro.
via China Times