Both of them is OL, to buy a small house, Shen Xing Ren in the "Office Girls" eats the same food every day for four consecutive years, and not willing to make a phone booking for taxi; on the opposite Cheng You Qing in "In Time With You" is wearing fashionable clothes, go to work by taxi and always patronize Japanese and French restaurant.
At first glance, Cheng You Qing's life is better than Shen Xing Ren, but after analysis by financial expert, it's found that Cheng You Qing is actually a moonlight clan. Viewers who are immersed into the drama project own psychological reflect, some people is resonating with frugality of Shen Xing Ren, and there is also people who envy Cheng You Qing who can stage fashion show everyday. Financial expert lists out the two actresses' monthly expenses according to the plot, to compare the gains and losses.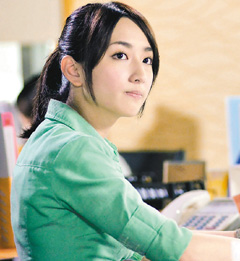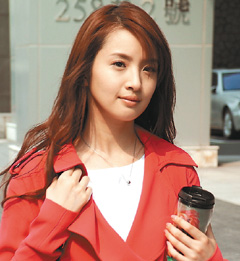 Expert roughly estimates that the monthly salary of Cheng You Qing as a supervisor is about TWD $50,000 (about USD $1655). In the episodes aired on October 2011, she went for holiday with Li Daren at Miaoli, watched modern drama, sang KTV, eat spicy hot pot, patronized little pub, coupled with drinking coffee, taking taxi daily, and the need to buy high heel shoes, designer cloth to meet ex-boyfriend, the total expenditure amounted to about TWD $43,900. If counting the TWD $20,000 she borrowed her brother for emergency case, she is completely overspent.
In contrast, Shen Xing Ren, although her salary is only TWD $40,000 after she was promoted to team leader, but she shares a rented room at the top floor with friend for about TWD $7,000, food and miscellaneous costs are NT $5,000. She never dines out, only treated colleagues for one time, and uses petrol for motorcycle of about NT $600 a month, so she still has balance of TWD $22,601 per month, and can save the first 1 million of the life in 4 years.
The analysis drew comments from netizens, "Cheng You Qing who is able is actually very muddled," "no wonder she chose rich ex-boyfriend." But some people thinks that to treat own-self well is the new independent women.
Interesting thing is, in reality Ariel Lin Yi Chen who plays the role of Cheng You Qing is very frugal. Even though her annual income is more than 10 million Taiwanese dollar, but she never buy something that costs more than TWD $10,000, and takes bus and rapid transit every day. She said with smile that she always believes that "if you don't manage your finance, money will ignore you," and "women learn to save money, invest, so that future has no worry, this is also the way to treat well oneself."
via UDN