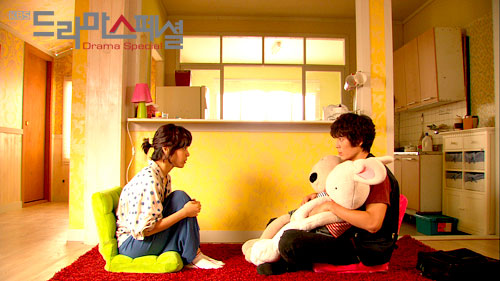 Drama Title: Terminal
Korean Title: 터미널
Revised Romanization: Teomineol
Chinese Name: 终点站 / 终端
Genre: Drama
Language: Korean
Episodes: 1
Broadcast Place: South Korea
Broadcast Network: KBS2
Broadcast Period: October 9 2011
Air Time: Sunday 23:25 PM
Preceded by: Lethal Move
Followed by: Guardian Angel Kim Yeong Goo
Plot Summary / Synopsis
A drama about a man whose soul floats about after he dies in a car accident and a woman who goes through confusion at his death.
Cast
Kim Seong-oh (김성오) as Man-soo (만수)
Lee Yoon-ji (이윤지) as Yeon-soo (연수)
Yang Hee-kyeong (양희경) as Sin-ja Believer (신자)
Lee Won-jong (이원종) as Cleaner (클리너)
Production Credits
Directed: Jeon Woo-seong (전우성)
Screenplay Writer: Jeong Yoon-jeong (정윤정)
Trivia
The drama is 40th part of KBS "Drama Special" miniseries.
Watch online with English or Chinese subtitle (not yet available).
Photo Gallery