Your Rating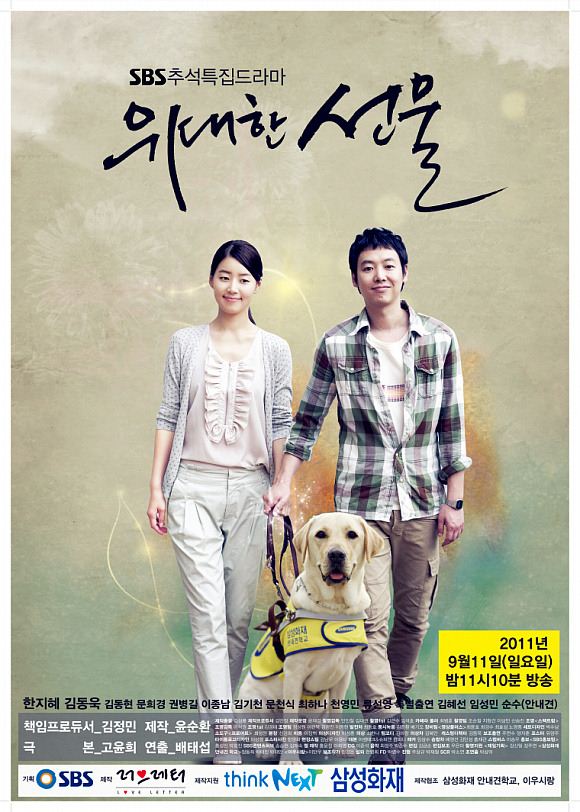 Drama Title: The Mighty Gift
Korean Title: 위대한 선물
Also Known As: The Great Gift / Widaehan Seonmul
Chinese Title: 伟大的礼物
Originally Known As: 선물 / Gift
Genre: Drama, Family
Episodes: 2 (2 episodes aired consecutively)
Broadcast Place: South Korea
Broadcast Network: SBS
Broadcast Period: September 11 2011
Language: Korean
Air Time: 23:10 PM
Plot Summary / Synopsis
A warmth touching family drama about a woman who is a blind (losing her eye-sight disability) and has to depend on guide dog, and the romantic story with a cop who helps her.
Cast
Han Ji Hye (한지혜) as Kim Ha Yeon (김하연)
Kim Dong Wook (김동욱) as Gu Woo Lam (구우람)
Choi Ha-na (최하나) as Hang Yeong-eun (한경은)
Cheon Yeong-min (천영민) as Gu Seung Li (구승리)
Kim Dong-hyeon (김동현) as Ha Yeon's father (하연부)
Moon Hee Kyeong (문희경) as Ha Yeon's mother (하연모)
Kwon Byeong-gil (권병길) as Headmaster (교장)
Lee Jong-nam (이종남) as Vice Headmaster (교감)
Moon Cheon-sik (문천식) as Teacher In-Charge (담임)
Kim Hye-seon (김혜선) as Sister In-Law (형수)
Sun (태양) as Guide Dog
The Mighty Gift (The Great Gift) Characters Description
Production Credits
Chief Producer: Kim Jung Min
Producer: Yoon Soon Hwan (윤순환)
Director: Bae Tae-seop (배태섭)
Screenwriter: Ko Yoon-hee (고윤희)
Episode Rating
Episode 1 & 2: 5.3% (Nationwide) 6.2% (Seoul)
Trivia
The short drama is designated a Chuseok (a harvest festival on the same date with Mid Autumn) special series.
The Mighty Gift Teaser Trailer
Watch online (without English/Chinese/Japanese subtitle) at tudou.com (episode 1 and episode 2).
News, Interview and Behind the Scene
Photo Gallery