It's reported the main production team of MBC Wednesday and Thursday drama series The Moon Embracing the Sun (TMETS) has joined the strike, causing the broadcast of final 2 episode on March 7th and March 8th of 2010 may possibly be canceled. The unprecedented crisis is further widening, but MBC official is still holding to their "not yet decided" position.
The director of the Moon that Embraces the Sun that has only 2 episodes remaining, Kim Doh Hoon, decided to join the general strike on March 6th, 2012, disrupting the filming and indicating the normal broadcast may be affected.
According to official of production team, since the evening of February 5th, 2012, the B team has withdrew with only A continues to shoot. The production team was originally divided into 2 teams to split the burden of filming volume. With the change of situation occurred, the shooting may be delayed from original plan or canceled, threatening the broadcast.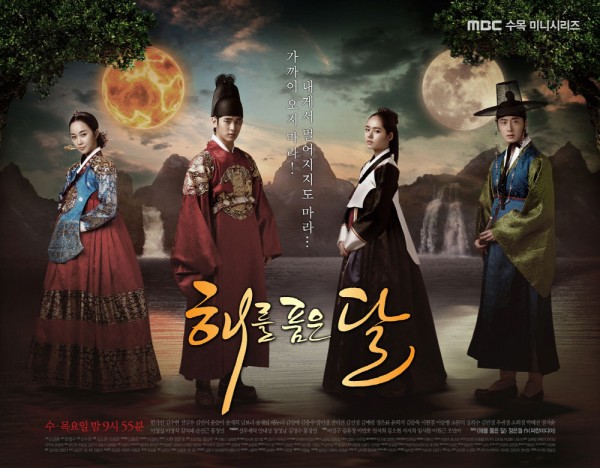 The representative of lead actors in TMETS, Kim Soo Hyun and Jung Il Woo, told OSEN through phone, "It's understood that the filming of main part will go as planned."
Especially both Kim Soo Hyun and Jung Il Woo has busy schedule that starts right from the second day after the end of the TV series, such as CF shooting, thus it's very hard to delay the filming. Even if the broadcast is postponed, they should be shooting as much as possible within the original filming schedule.
Another official of TMETS hinted, "The filming schedule of the actors will not be affected temporarily, the shooting will be done as much as possible. Even so, the broadcast that is scheduled this week would be difficult. In addition, shooting is done in situation where PD is absent due to joining the strike, causing issues on editing and other technical parts."
In this regard, MBC TV said, "Nothing is decided yet about the cancellation of broadcast."
Meanwhile, other than PD of The Moon that Embraces the Sun's Kim Do Hoon, PD of God of War's Kim Jin Min, Just Like Today's Kim Dae Jin, Banquet of the Gods' Lee Dong Yoon officially announced to join the strike.
via Osen