Girls' Generation made a guest appearance in "Happy Together" to tell their interesting stories.
The KBS's "Happy Together" aired on May 10th, 2012 had the theme of "Girls' Generation vs Funny Times", and SNSD's Jessica, Taeyeon and Tiffany were invited to star as guests in the program. In addition, during the filming, YoonA made a surprise visit, giving audience a pleasant surprise. Turned out YoonA specially came to the filming set while she was filming "Love Rain" for the sake of other members.
Although it was a surprise visit, but YoonA was not restrained, and even danced hilariously with the comedians, showing her entertainment skills. In addition, she also told the behind the scene story of the kiss scene with Jang Geun Suk.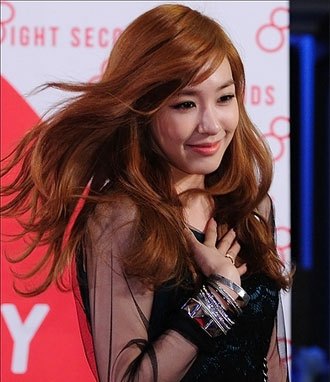 Tiffany who was guest-starring was asked which drama among "Love Rain" starring YoonA and "Fashion King" starring Yuri which broadcast at the same time slot would she chose. She said frankly that she watched the TV series starring by Yuri. Jessica also said, "The drama series starring by YoonA and Yuri air on the same time, we're forced to change channel to watch frequently, as the result, we're not so clear on the content of the two dramas." But Tiffany answered, "I watched drama starring Yuri. Yuri seems like not so heavy on schedule, she always at home, and at 10pm, she begins to watch her own drama, so I also have to follow her to watch."
The program starring SNSD broadcasted on May 10th, at 11:15pm.