The charm of Hong sisters is overwhelming as expected. The episode 1 of new KBS miniseries "Big" premiered on June 4th, 2012, quickly completed the soul exchange of Shin Won Ho and Gong Yoo, immediately captures the audience's heart. And the funny lines and smooth plot that are unique to Hong sisters also engraved with very obvious "Hongs brand" as in previous dramas.
The first episode of "Big" scored the 7.9% national average viewership ratings, and it's not easy to achieve such result on premiere. Although when taking into account the casting of Gong Yoo, Lee Min Jung and other stars couple with new drama of Hong sisters, the viewership ratings seem can be higher, but the drama of Hong sisters has always been getting better as time goes by, and the plot getting more attractive as story proceeds, so now it's still too early to judge.
The premiere of "Big" did not even get the help from preceding drama "Love Rain". The rating for last episode of "Love Rain" was 5.9%, lower by 2% when comparing with rating of first episode of "Big". So whether "Big" can win back the pride for KBS has also become focus of attention.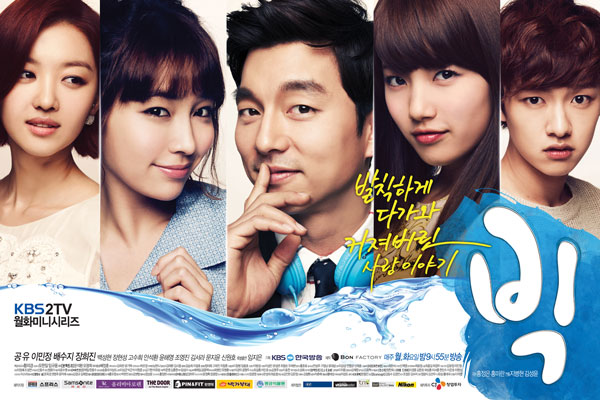 In the first episode, the plot mainly focuses on the process of the spirit of 18-year-old youth Kang Kyung Joon (Shin Won Ho) getting into the body of 30-year-old perfect man Seo Yoon Jae (Gong Yoo). Besides, the drama also quoted a lot of classic scenes and lines from other dramas. Kil Da Ran (Lee Min Jung) imitated the "I am a teacher, you are a student in TV series "Romance". At the same time, "Buing Buing" of MBC's "High Kick 3" and "thank you" of KBS's "Gag Concert" also debuted, becoming another attraction. and the cameo of many other stars also brought a lot of fun to the plot.
On the other hand, MBC's "Lights and Shadows" and SBS's "The Chaser" aired at the same time rated 20.3% and 9.2% respectively.