The ratings of Fashion King increased.
According to data of AGB Nielsen Media Research agency released on April 3rd, 2012, the rating for episode 5 of SBS Korean drama series Fashion King is 10.1%, a slight increase from 9.6% rating achieved on episode 4. The love relationship of lead characters in Fashion King officially began, making the ratings rose and successfully regained its footing in double-digit number.
In the episode, Young Gul (Yoo Ah In) and Anna (Yuri), together with Jae Hyuk (Lee Je Hoon) and Ga Young (Shin Se Kyung) have favorable feelings to each other, and the love relationships are gradually become clearer. Young Gul and Anna encounter by chance at Dongdaemun and drink together. The drunken Anna said, "Michael recognizes me, really happy." Young Gul said, "You have your charm," and send the drunk Anna home.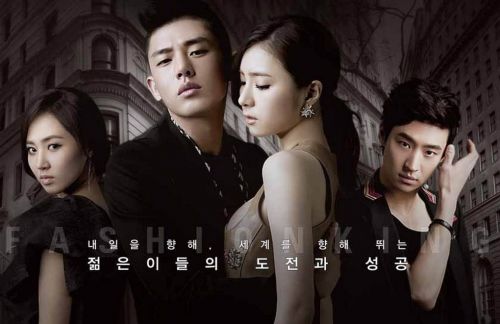 Jae Hyuk who has a favorable impression to Ga Young comes to Anna's house as he is worried about Anna, but saw Young Gul is together with Anna, instantly becomes angry. So the love relationship of the four heroes officially began.
In addition, the MBC's Lights and Shadows and KBS 2TV's Love Rain broadcast at the same time slot rated 21.7% and 4.4% respectively.