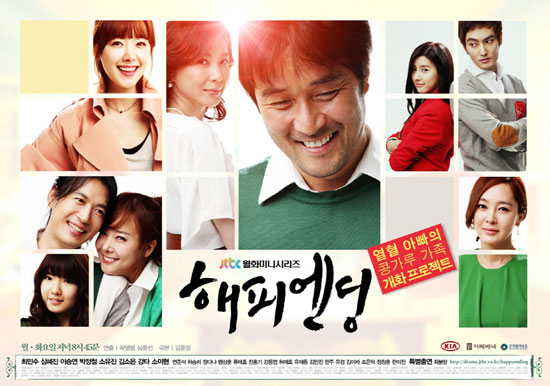 Drama Title: Happy Ending
Korean Title: 해피엔딩
Romanization Pronunciation: Haepi Ending
Chinese Name: 美丽结局 / 大团圆
Japanese Name: ハッピーエンド
Genre: Family
Episodes:
Broadcast Place: South Korea
Broadcast network: JTBC
Broadcast period: 23 April 2012
Language: Korean
Air time: Monday and Tuesday 8:45 PM
Preceded By: Syndrome
Followed By:
Plot Summary / Synopsis
"Happy Ending" is about a strongly characterized, secretive and broken family finally getting together in the end to communicate and harmonize with the death of the father Kim Doo Soo.
Kim Doo Soo is a never-giving up, adventurous and optimistic local news reporter at a broadcasting station who has guts. At home, he is a patriarchal and dictatorial father. His work always keeps him busy, thus he has not been able to connect with his family. Then Kim Doo Soo is diagnosed with terminal illness, he brings his broken up family back together again with his dead near.
Cast
Choi Min Soo (최민수) as Kim Doo Soo (김두수)
Shim Hye Jin (심혜진) as Yang Sun Ah (양선아)
Lee Seung Yun (이승연) as Hong Ae Ran (홍애란)
Park Jung Chul (박정철) as Lee Tae Pyung (이태평)
Kang Ta (강타) as Koo Seung Jae (구승재)
So Yoo Jin (소유진) as Kim Geum Ha (김금하)
So Yi Hyun (소이현) as Park Na Young (박나영)
Kim So Eun (김소은) as Kim Eun Ha (김은하)
Yun Joon Suk (연준석) as Choi Dong Ha (최동하)
Choi Bool Am (최불암)
Production Credits
Director: Kwak Young Bum (곽영범)
Writer: Kim Yoon Jung (김윤정)
Viewership Ratings (Ranking)
| | | | | | |
| --- | --- | --- | --- | --- | --- |
| Date | Episode | Nationwide (TNS) | Seoul (TNS) | Nationwide (AGB) | Seoul (AGB) |
| 23 April 2012 | 1 | | | | |
| 24 April 2012 | 2 | | | | |
Source: AGB Nielson and TNmS
Official Site
Official Photo Gallery
Official Behind the Scene Videos
Watch online with English subtitle (not yet available).
Watch online with Chinese subtitle (not yet available).
Photo Gallery