Facing with the fateful love, two pairs of lovers begin to show difference in future direction. The love of Jang Geun Suk and YoonA is heartbreaking, while the love of Jung Jin Young and Lee Mi Sook is beginning to see the light.
In the episode 12 of KBS's "Love Rain" aired on May 1st, 2012, Joon (Jang Geun Suk) learns that Ha Na (YoonA) truly hopes that her mother Yoon Hee (Lee Mi Sook) and In Ha (Jung Jin Young) can be happy, and choose to break up with Ha Na. Facing with the sudden break up, Ha Na couldn't accept it, and is in endless pain. Joon also says words which are completely different with his heart, hurting Ha Na even more.
Joon who hugs the asleep Ha Na tightly says against his heart, "Really, I don't have anymore feelings. Don't bother me, don't force me to treat you worse. Let's end it." In the final part of episode, Yoon Hee and In Ha appears opposite of Joon and Ha Na couple, by contrast, the break up of Joon and Ha Na is even more unfortunate.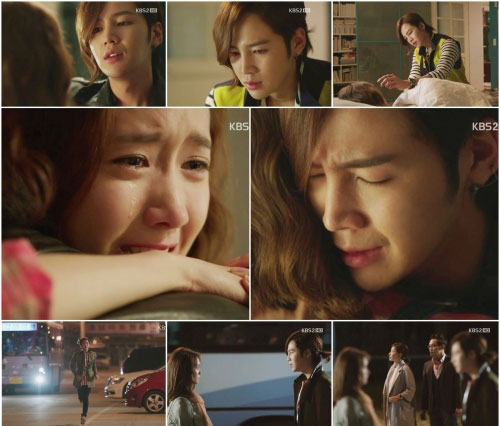 "Love Rain" episode 12 rated 5.2% nationally based on AGB Nielson, while at the same time slot, SBS's "Fashion King" and MBC "Lights and Shadows" rated 9.9% and 22.3% respectively.
via bntnews