The 'leisurely beautiful' drama series meticulously crafted by KBS 2TV for busy urbanites, Love Rain, has its ratings hovering at only around 4%.
According to data of AGB Nielson Media Research on April 3rd, 2012, the episode 3 of Love Rain broadcast on April 2nd, 2012, recorded only 4.4% of national average rating. The rating is a drop of 0.8% from 5.2% achieved on episode 2 aired by March 27th, 2012. The drama has shown a declining trend since began broadcasting, albeit already low ratings.
In episode 3, In Ha (Jang Geun Suk) who has been concealing his feelings to Yoon Hee (Yoona) because of friend, finally confesses to Yoon Hee, and the two persons also start to date. In the preview video shown in the end, with In Ha is about to enlist in military, while Yoon He is suffering from serious illness, making the audience curious about their future relationship.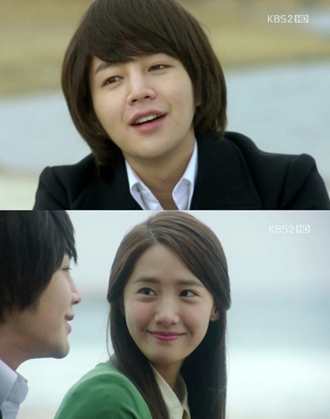 In addition, broadcasting at the same time, SBS' Fashion King's ratings increased with the with the commencement of the heroes' love scenes, recording 10.1% for national rating, while MBC's Lights and Shadows achieved 21.7% national rating.
via bntnews