The Taiwanese and Chinese drama Love Keeps Going finally comes to a climax, with the widely anticipated exotic bed scene between Mike He and Cyndi Wang, both the lead casts of the drama that shown in the end of episode 9 and beginning of episode 10, . During the passionate bed scene, both bodies physically sticked to each other, and the lips didn't separate for a second even when rolling from sofa in living room to bedroom. Although sticky when shooting, but once director stopped the scene taking, both people immediately bounced away, feeling rather awkward.
When talking about the exotic bed scene, they both teased the other as has experience. Cyndi Wang embarrassedly said that: "Mike He is the old-timer for bed scene, so I need him to coach me!" While Mike He retorted: "Where got! Kissing scene you're super good in taking me OK?" Just like lovers philandering, praised by staffs on the set to be really into the act.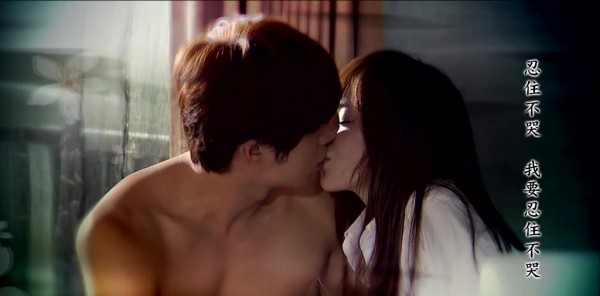 When shooting the bed scene, director let them develop emotionally, then explained the camera position, and slowly stripped Mike He to nearly fully naked. Mike He also for the first time shows off his butt at the drama, with buttock cleavage looming to show itself. Mike He said: "There was a feeling of being raped! Haha! Director always asked me to lower the pant, saying that won't be noticed in the shoot, but obviously the belt is already lower than navel, director still says not enough, lower and lower! And absolutely beautiful, and there is a computer in the foreground to cover half of the buttock, so can't really see."
When shooting this scene, the director let them develop emotionally, and then explain the camera position, step by step, slowly stripped Mike, so He was only a small bare chested beauty, almost naked, Mike is also the first time to reveal the strong play Bottom, thigh looming, he joked: "really kind of the feeling of being raped! Haha! At that time the director has asked me to pull down the pants, said camera point of view does not come out, obviously under their belts already to the navel, the director has also been saying "enough! Low and then low again! And absolutely beautiful, there are prospects of a computer cover half ass, can not see! "He let naked little hard to make up the United States do push-ups.
The shooting venue is not cleared of people, and wore very less, and the lines of both people is even explicit. Cyndi has to deliberately pull the only towel on Mike He's body, and Mike has to shout: "Oi! Female pervert ah!" And both laughs frequently. Director also requests them to kiss and roll, for this Mike He said: "It's even more tiring than go to gym." Cyndi Wang who first time shooting such an intimate bed scene is very shy, and so anxious until didn't notice that she had clenched her fist, causing the laungh and the scene to be re-shot.
In fact, the bed scene took nearly 6 hours to be done properly.
Many fans of Love Keeps Going have said that the kissing scenes of Mike He and Cyndi Wang is very realistic. In addition, as the bed scene is only shown at the end of the episode 9, so it only lasts for 3 minutes. The scene is simply too short, and there is no anything explicit shown. This caused many Love Keeps Going fans to love and hate. Some comments includes "So dawn already?", "Yi Lie only has 3 minutes?", "Gone case! Mei Le's happiness for her bottom half is broken!" Fortunely, the bed scene continues in episode 10 which gave the viewers more entertaining scenes.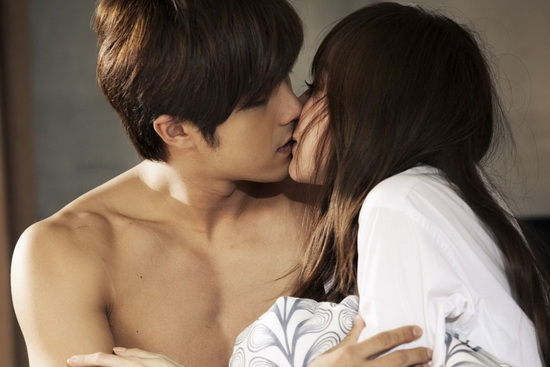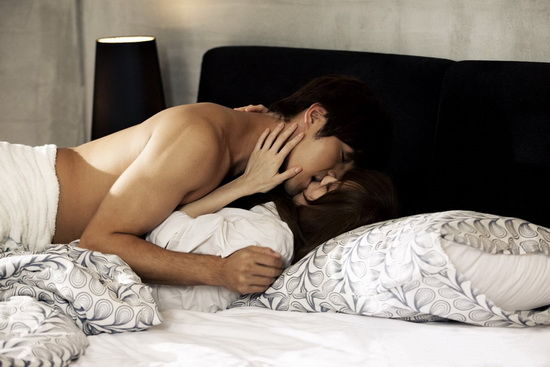 The exotic bed scene of Mike He and Cyndi Wang in Love Keeps Going
via GTV