On December 21st, 2011, MBC announced on its Drama Awards website the nominees for the Best Kiss Scene award. The Best Kiss Scene award is determined by the popular votes of the general public.
The first nominee is the "snake body kiss" of Cha Seung Won and Kong Hyo Jin in The Greatest Love. The kiss got its name because of the way Cha Seung Won extended his body out of car window is just like snake twisting. Song Seung Hun and Kim Tae Hee's "4 parts of kiss" in My Princess is also in the list. It's the scene of Song Seung Hun kissed Kim Tae Hee's lips, forehead, cheeks, and then kissed her lips again.
Other kiss scenes nominated include "classical kiss" of Kim Suk Hoon and Kim Hyun Joo in Sparkling, "dangerous escape kiss" of Yum Jung Ah and Ji Sung in Royal Family, "baseball stadium kiss" between Choi Ji Woo and Yoon Sang Hyun in Can't Live with Losing (Can't Lose), and "handcuff kiss" of Lee Ji Ah and Yoon Shi Yoon in I'm Flower Too (Me Too, Flower). Interestingly, Hwang Jung Eum is nominated for two kiss scenes, the first been "kiss of hands" with Nam Gung Min and second been "kiss of staircase" with Kim Jae Won, both in Can You Hear My Heart? drama.
MBC Drama Awards ceremony is broadcast from 9:55 PM on December 30th, 2011. The online voting ends at the end of first segment of the ceremony.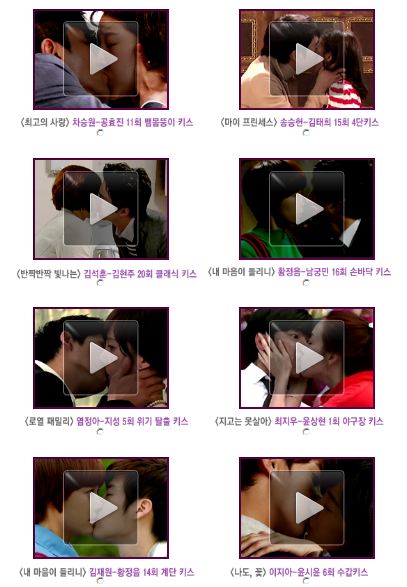 Here's the nominees for 2011 MBC Best Kiss Scene Award, with the video clips of the kiss scenes:
1. Cha Seung Won and Kong Hyo Jin – Snake Body Kiss (The Greatest Love Episode 11)
2. Song Seung Hun and Kim Tae Hee – 4-Part Kiss (My Princess Episode 15)
3. Kim Suk Hoon and Kim Hyun Joo – Classical Kiss (Sparkling Episode 20)
4. Hwang Jung Eum and Nam Gung Min – Palm Kiss (Can You Hear My Heart? Episode 16)
5. Yum Jung Ah and Ji Sung – Escape Crisis Kiss (Royal Family Episode 5)
6. Choi Ji Woo and Yoon Sang Hyun – Ballpark Kiss (Can't Live with Losing Episode 1)
7. Hwang Jung Eum and Kim Jae Won – Staircase Kiss (Can You Hear My Heart? Episode 14)
8. Lee Ji Ah and Yoon Shi Yoon – Handcuff Kiss (Me Too, Flower Episode 6)