The battle of Girls' Generation (SNSD) vs Girls' Generation (SNSD) in Monday and Tuesday dramas which broadcast the same time received great attention. The SNSD's Yuri and Yoona engaged in first-round showdown in acting for the first time on March 26th, 2012. On the day, Yuri stepped onto the pace of winning in advance.
According to statistics released by AGB Nielson Media Research agency, SBS' Fashion King starring Yuri won over KBS 2TV's Love Rain starring Yoona, both broadcast at the same time on March 26th, 2012. On the day, the rating of Fashion King episode 3 is 9.2%, while the premiere episode 1 of Love Rain recorded a rather low rating of 5.9%.
Love Rain which premiered on the day makes people falls into the memories of pure first love through movie-like beautiful scenes and vivid colors. The encounter of Jang Geun Suk and Yoona attracted attention at first sight, but the interweaving relationship between them lets audience felt pity, raising the expectations of audience on second episode.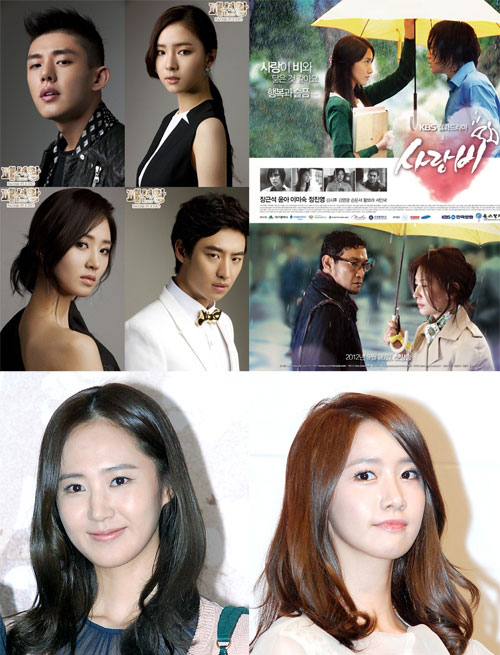 Yoona who plays the daughter of big family in the drama appeared in long hair, dressed in elegant one-piece dress, showing the look of "Korean goddess."
On the other hand, Yuri is making people falling into her charm through efforts and enthusiasm of the role of top designer Choi Anna in her debut drama Fashion King, showing the capability of the modern women. The unique love story that exudes unique charms also raised the anticipation of audience.
In addition, MBC's Lights and Shadows scored the rating of 20.6% on the day.
via bntnews