Yoon Sang Hyun (acting as Hyung Woo) and Kim Jung Tae (acting as Ki Chan) who act as a pair of good friends in Can't Live with Losing (Can't Lose) drama series, have recently completed the recording of OST (Original Sound Track) song for Can't Lose and Little Girl K separately.
Sang Hyun agreed happily to the invitation to participate in the OST of Can't Lose, while Jung Tae completed the recording of the "Forget About Me" (잊어줘) OST through his upcoming new drama Little Girl K of CGV TV channel, and published the music on 26th.
Yoon Sang Hyun is not a stranger to singing for the drama. He had dreamed of becoming a singer before, and after he becomes an actor, he used to sing the "Never Ending Story" of "Queen of Housewives", which became a talking point. In addition, in "Secret Garden", he also sang "Here I Am" and "Constellation of Tears" (눈물자리) for the drama. Most importantly, the songs are well loved.
Kim Jung Tae has recently released a controversial track named "Chan Chan Chan" through 2010 Korean movie "Banga Banga!", successfully releasing his first single. He also used to dream of becoming a singer, and finally successful. In the press interview for Little Girl K held in Sangam CGV on August 23rd 2011, Jun Tae revealed his feeling, "because I like to sing so I agree to participate in the OST when invited. If time is riped I hope to continue participating in OST."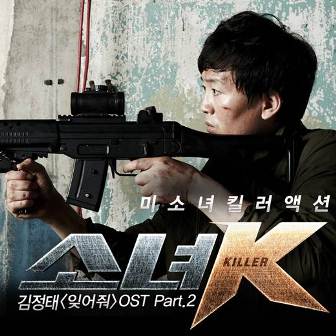 The humorous moment is when Jung Tae is treating Sang Hyung as his opponent in OST.