On March 25th, 2012, the 48th South Korea PaekSang Arts Awards announced the finalists of nominations for various Motional Picture Awards and Television Awards. Unlike Blue Dragon Film Awards, Grand Bell Awards and the year-end awards by 3 major TV broadcasters, PaekSang Arts Awards is the only awards ceremony that combined movie, drama and general entertainment in one. PaekSang Arts Awards is also known as "Golden Globe Awards of South Korea."
In the motion picture awards category, the Nameless Gangster that recently on screen in 2012, Helpless, the two highly acclaimed film genre, and Unbowed with the theme of critical realism, together with outstanding films of last year, Sunny and Punch, are competing for Best Film Award.
For actors and actresses, Gong Yoo, Kim Yun Seok and Park Hae Il compete for Best Leading Actor Award, while Son Ye Jin will fight with Jung Ryeo Won for Best Leading Actress Award. It is worth mentioning that on 47th awards ceremony last year, Tang Wei, became the first foreigner to won the Paeksang Arts Awards for Best Actress through her performance in "Late Autumn." The Architecture 101 which recently topped the box office in South Korea helped both Lee Je Hoon and Suzy to become finalists of nomination for best new actor and actress awards respectively.
On the category for television, Kim Soo Hyun who was nominated for Best New Actor award in 2011, becomes red hot sizzling celebrity in 2012 by virtue of The Moon that Embraces the Sun, and will even compete for Best Actor Award with Cha Seung Won, Park Si Hoo, Shin Ha Kyung and Han Suk Kyu. Nomination finalists for Best Actress Award are Kong Hyo Jin, Kim Sun Ah, Kim Hyun Joo, Moon Chae Won and So Ae. Besides, The Moon that Embraces the Sun will compete with The Greatest Love starring Cha Seung Won and Kong Hyo Jin for Best TV Drama Award.
2012's 48th PaekSang Arts Awards presentation ceremony will be held on April 26th, 2012.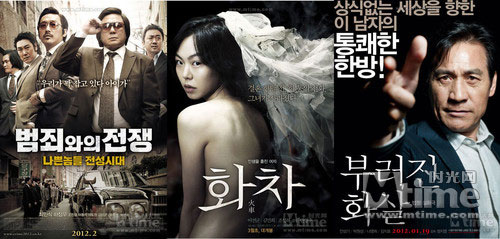 48th PaekSang Arts Awards Finalist
Motion Picture Awards Category
Best Film
Nameless Gangster
Unbowed
Sunny
Punch
Helpless
Best Director
Byeon Yeong Joo – Helpless
Yoon Jong Bin – Nameless Gangster
Lee Han – Punch
Jeon Gye Soo – Love Fiction
Chung Ji Young – Unbowed
Best Actor
Gong Yoo – Silenced
Kim Yun Seok – Punch
Park Hae Il – Arrow: The Ultimate Weapon
Ahn Seong Gi – Unbowed
Choi Min Sik – Nameless Gangster
Best Actress
Kim Min Hee – Helpless
Son Ye Jin – Spellbound
Sim Eun Kyeong – Sunny
Uhm Jung Hwa – Dancing Queen
Jeong Ryeo Won – Pained
Best New Actor
Kim Seong Gyoon – Nameless Gangster
Lee Kwang Soo – Love On Air
Lee Je Hoon – Architecture 101
Joo Won – Special Investigation Unit
Best New Actress
Kang So Ra – Sunny
Go Ara – Papa
Kim Hye Eun – Nameless Gangster
Bae Suzy – Architecture 101
Oh Na Ra – Dancing Queen
Best New Director
Kim Jeong Hwan – Penny Pinchers
Park In Je – Moby Dick
Lim Chan Ik – The Apprehenders
Han Sang Ho – Tarbosaurus 3D
Heo Jong Ho – Countdonw
Best Screenplay
Park Sang Yeon – The Front Line
Park In Je – Moby Dick
Yoon Jong Bin – Nameless Gangster
Jeon Gye Soo – Love Fiction
Jung Ji Young & Han Hyun Keun – Unbowed
Television Awards Category
Best TV Drama
KBS The Princess' Man
KBS Brain
SBS Deep Rooted Tree
MBC The Greatest Love
MBC The Moon that Embraces the Sun
Best Director
MBC The Moon that Embraces the Sun
KBS The Princess' Man
MBC Twinkle Twinkle
KBS Brain
SBS Deep Rooted Tree
Best Screenplay
SBS Deep Rooted Tree
KBS Brain
KBS The Princess' Man
MBC The Greatest Love
Best Actor
Kim Soo Hyun – The Moon that Embraces the Sun
Park Si Hoo – The Princess' Man
Shin Ha Kyun – Brain
Cha Seung Won – The Greatest Love
Han Suk Kyun – Deep Rooted Tree
Best Actress
Best New Actor
Kang Dong Ho – Twinkle Twinkle
Park Yoo Hwan – A Thousand Days' Promise
Park Yoon Jae – Indomitable Daughters-In-Law
Yeo Jin Goo – The Moon that Embraces the Sun
Joo Won – Ojak Brothers
Best New Actress
Kang So Ra – Dream High 2
Kim Yoo Jung – The Moon that Embraces the Sun
Lim Soo Hyang – New Gisaeng Story
UEE – Ojak Brothers
Jung Yoo Mi – A Thousand Days' Promise