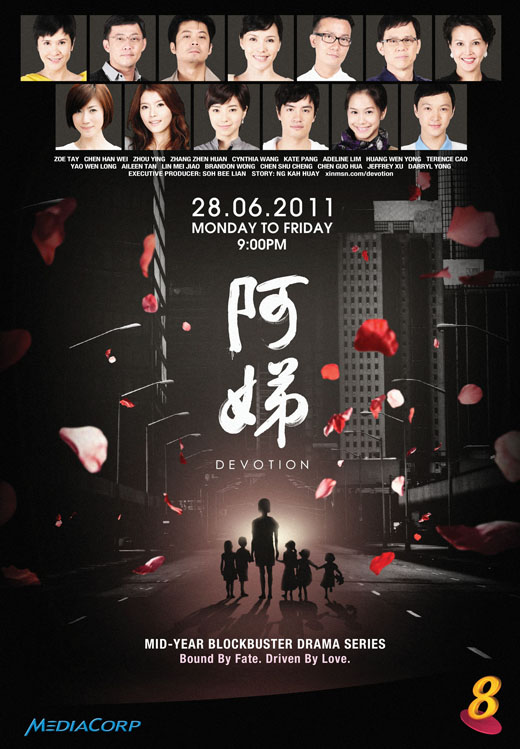 Drama Title: Devotion
Also Known As: ADi / A Di
Chinese Title: 阿娣
Genre: Drama, Family, Romance
Episodes: 25
Broadcast Place:Singapore
Broadcast Network: MediaCorp Channel 8
Broadcast Period: 28 June 2011 to 1 August 2011
Air Time: Monday to Friday 21:00 – 22:00
Language: Chinese
Duration: 46 minutes
Preceded By: C.L.I.F.
Followed By: On the Fringe
Cast
Zoe Tay as Liu Zhao Di (刘招娣 / 阿娣)
Chen Han Wei as Huang Da Ke (黄大可)
Terence Cao as Xie Zhi An (谢志安)
Yao Wen Long as Hong Ke Qin (洪克勤)
Zhang Zhen Huan as Fu Shuang Jie (傅双杰)
Kola Zhou as Wang Yuan Fang (王元芳)
Kate Pang as Xu Si Wen (许思雯)
Adeline Lim as Wu Feng (五凤)
Cynthia Wang Xin Ru as Zhang Shan Shan (张姗姗)
Aileen Tan
Brandon Wong
Lin Mei Jiao
Chen Guo Hua
Jeffrey Xu
Darryl Yong
Chen Shu Cheng
Huang Wen Yong
Ye Shi Pin
Chen Hui Hui
Synopsis / Plot Summary
A-di alias Liu Zhaodi (Zoe Tay), is born in the 60s amidst sand quarries during the heyday of sand quarrying. Zhaodi, the fourth daughter in the family and whose name means "brings a younger brother", is given away to an uncle after her mother finally gives birth to a boy. He mistreats A-di like a maid. When she was little, A-di falls into a quarry pond and was saved by Huang Dake (Chen Han Wei). Love blossoms between them after they are reunited in adulthood but A-di is forced by her foster father to marry Xu Zhongzheng (Huang Wen Yong), the boss of a garment factory.
Sand quarrying enters the annals of history in the late 80s. A-di marries and moves away but returns on a certain date every year to mourn by the sand pond, thinking that Dake is dead.
Not long after A-di marries Zhongzheng, he was manslaughtered by two subordinates. After Zhongzheng died, A-di works in a soy sauce factory. She becomes the object of love of Hong Keqin (Yao Wen Long), the boss of a soy sauce factory. However, she rejects his overtures because of her deep love for Dahe.
A sequence of events lead to A-di adopting five children from different families – Yuanfang (Zhou Ying), Shuangjie (Zhang Zhen Huan), Siwen (Kate Pang), Shanshan (Cynthia Wang) and Wufeng (Adeline Lim) – and raising them while working at Keqin's factory, "Home Flavour". Coming from various family backgrounds, the "siblings" experience the pains of love and joys of kinship.
Fast forward to the 90s – Keqin dies of cancer, leaving "Home Flavour" to A-di. Despite her tussle with Keqin's sister over the control of the soy sauce business and the numerous obstacles she encounters, A-di remains undaunted.
Raising five children has been a bittersweet experience for A-di. For 20 years, the career mother has never once entertained the thought of giving them up even in life's most difficult moments…
Yuanfang and Shanshan's parents were jailed for murder. Brainwashed by her father, Yuanfang is convinced that A-di is responsible for his imprisonment and plots to seek revenge. The rebellious Shanshan is also causing A-di much grief.
Shuangjie is close to A-di and protective of Siwen, He feels for Siwen but realizes that he loves Shanshan. The love triangle between Shuangjie, Siwen and Shanshan leaves them entangled by their relationships.
Siwen loses her hearing in a childhood accident. She falls in love with Shuangjie while Yimin, an autistic worker in the packaging section of "Home Flavour", is secretly in love with her. During an outburst, he almost kills Siwen. Yuanfang appears at the scene, kills Yimin in self-defence and accidentally caused Siwen's death.
A-di and Shuangjie are implicated in the murders. A-di saves Shuangjie by accepting culpability. Rejoicing, Yuanfang attempts to seize "Home Flavour" with Shanshan's mother. Fortunately, their cahoot is exposed. A-di blames herself for Yuanfang's misdeeds. She turns herself in to the police after persuading Yuanfang to turn over a new leaf. Yuanfang is filled with remorse…
Episode Synopsis
Episode Ratings
Episode 1: 823,000
Episode 1 to 3 (Average): 857,000
Episode 25 (Final Ep): 1,010,000
Overall (Average): 829,000
Source: XinMSN
Watch online with English subtitle at tudou.com
News and Interview
Photo Gallery