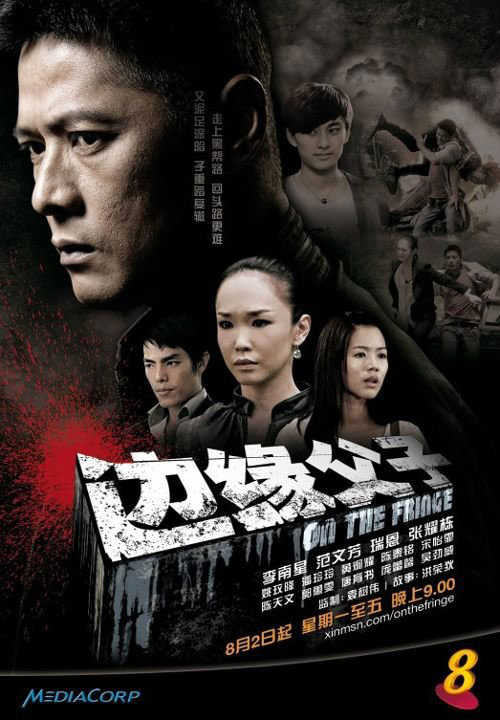 Drama Title: On the Fringe
Also Known As: On the Fringe 2
Chinese Title: 边缘父子
Genre: Action
Episodes: 20
Broadcast Place: Singapore
Broadcast Network: MediaCorp Channel 8
Broadcast Period: 2 August 2011 – 29 August 2011
Air Time: Monday – Friday 21:00 – 22:00
Language: Chinese
Duration: 46 mins
Preceded By: Devotion
Followed By: Bountiful Blessings
Cast
Li Nan Xing (李南星) as Tian Yi Bang (田一邦)
Fann Wong (范文芳) as Liu Jia Li (刘佳丽)
Rui En (瑞恩) as Sha Sha (莎莎)
Zhang Yao Dong (张耀栋) as Leo
Brandon Wong (黄炯耀) as Ah Qing (阿清)
Yao Wen Long (姚玟隆) as Si Yan Ji (四眼鸡)
Chen Tian Wen (陈天文) as Luo Biao (罗标)
Pan Ling Ling (潘玲玲) as Hua Hua (花花)
Rayson Tan (陈泰铭) as Yao Guo Hua (姚国华)
Kate Pang (庞蕾馨) as Zhong Ling (钟玲)
Constance Song (宋怡霏) as Nancy
Eelyn Kok (郭惠雯) as Ivy
Alan Tern (唐育书) as Jack
Jeremy Chan (田铭耀) as Ah Dang (阿当)
Chen Guo Hua (陈国华) as Ai Zai Hong (矮仔洪)
Yi Ling (易玲) as Zhen Ni Hua (珍妮花)
Edwin Goh (吴劲威) as Yao Zhi Yong (姚志勇)
Kimberly Chia (谢静仪) as Ah Ya (阿雅)
Elizabeth Lee (李巧儿) as Joey (祖儿)
Pan Yu Da (潘昱达) as Tomato
Gabriel Lee (李正豪) as Ah Dong (阿东)
Ian Fang (方伟杰) as Jason
Peng Xiu Xuan (彭修轩) as Xiao Shun (小顺)
Chen Yi Feng (陈毅丰) as Yao Li Yong (姚立勇)
On the Fringe Drama Cast Characters Description
Production Credits
Executive Producer: Paul Yuen (袁树伟)
Story Planner: Ang Eng Tee (洪荣狄)
Synopsis / Plot Summary
Tian Yibang was a juvenile delinquent (Fringe Teenager) in the 80s, a repeat offender who was in and out of the reformatory until he was sentenced to 18 years' imprisonment and caning for robbery with aggravated assault. 15 years later, he was discharged from prison. Already in his 40 years old as middle aged man, he vowed never to tread the old path again. He carried a photograph of his baby son whom he had never seen nor carried. He longed to see his 15-year-old flesh and blood but had no news of him. His ex-wife, who had since re-married, once told him that she would never let their son know about his disgraceful father.
Yibang's fellow gangsters have either died or given up their criminal ways. The times have changed but there remained a dark corner in society where people continued to lurk outside the boundaries of the law, just like they once did. Liu Jiali was a pretty lass whose looks belied the power she wielded over a large criminal organization. She was the confidante of Yibang's buddy Moda, who mysteriously fell to his death two days before Yibang's release from prison. After "inheriting" his "business", Jiali tried to rope Yibang in to assist her and to hunt down Moda's murderer. The story for that day is about Liu Jia Li make funeral arrangements for Mo da but all brothers have malicious intentions. On the other hand, Shasha, a blind but sanguine voluntary worker whom Yibang befriended at the halfway house, was adamant in steering him to the right path because she believed that he was, by nature, a good person. Which path will Yibang choose?
15-year-old Yao Zhiyong was the streetwise but rebellious son of Yibang. Together with some like-minded teens, he formed a gang called "WCS" (We Can Survive) and engaged in delinquent activities. Struggling with family, school and the pains of growing up, they choose to indulge in rebellious and anti-social behavior to vent their frustrations. It was fun initially, until things began to spin out of control and they ended up being manipulated by a criminal organization. With Shasha's help, Yibang was reunited with Zhiyong but never did he expect junior to follow in his footsteps. Despite his attempts to wrestle Zhiyong away from the edge of crime, the latter resented this stranger who crossed his path out of the blue. Zhiyong mocked at his father, calling him "a dumb juvenile delinquent from the 80s" and "a passé Ah Beng". Yibang was helpless against this kid on the fringe from the Internet Age. With blog, Twitter and Facebook, he was indeed outmoded. The "cultural revolution" sparked off by clashes between these "kids on the fringe" two generations apart constantly put their relationship to test. A series of setbacks weakened Yibang's resolve but Shasha made him persevere in touching Zhiyong's heart with his unrelenting sincerity. Motivated by the blind girl's effort to reconcile father and son, Yibang was persuaded to persist and finally succeeded in dissuading Zhiyong from taking the same wayward path like him.
Episode Synopsis
Viewership Rating
Episode 1 – 879,000
Episode 8 – 900,000 (source)
Episode 20 (Final Episode) – 1,066,000 (1st in 15 – 34 years old category) (source)
Overall (Average): 893,000
Trivia
The average rating for final episode of On the Fringe ranked second for 2011, after The In-laws and before C.L.I.F.
On The Fringe is ranked third, behind C.L.I.F and A Tale of Two Cities on 2011 TV ranking.
On the Fringe is the most-watched series on XinMSN's Catch-Up TV with a total of 1.33 million play counts.
The drama series with a similar name – "边缘少年", first broadcast on 1988, was the most controversial youth drama in the 80s. It was the drama that made Li Nanxing a household name.
On The Fringe (2011) is also known as On The Fringe 2 for the reason above.
On The Fringe (2011) is not a sequel to On The Fringe (1988).
On The Fringe Behind the Scenes
Watch online with English subtitle at xinMSN or youku.com.
News and Interview
Photo Gallery