In KBS drama "Love Rain", Jang Geun Suk is using clever 'self propose' trick, successfully been 'confessed'.
In episode 10 of "Love Rain" broadcasted on April 24th, 2012, Joon (Jang Geun Suk) tells Mi Hoo (Park Se Young), "I've committed," drawing a line with her. On the other hand, at night Joon goes to the home of Ha Na (YoonA) and says, "I will always stay here, it's troublesome to come here everyday," revealing his love to Ha Na. Then, when he learned that the ring of Ha Na is a couple ring reserved for the person she loved, he induced Ha Na, "Give it to me, don't think so much." When he saw Ha Na attempted to secretly retrieve back the ring, he took the right and said 'cunningly', "I accept it, this is your answer," and wears the ring on his hand, completing the confession for her for him.
Ha Na is touched by the action of Joon. She grabs the ring and confesses, "I love you, seems like I really love you." And she personally wears the ring on the hand of Joon.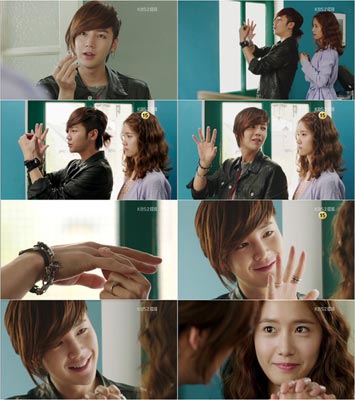 Watching the clever way of Jang Geun Suk in confession, netizens responded overwhelmingly, and said, "Jang Geun Suk who wore the ring for himself is so happy! So handsome, who doesn't want to wear the ring for him?", "Jang Geun Suk is really a master! First to confess, first to kiss, and eventually capture the heart of YoonA" and so on.
Apart from deepening love between the two persons, the middle-aged In Ha and Yoon Hee also gradually recover their past feelings, the two love lines begin to slowly extend, the plot become more and more attractive.
On the day, "Love Rain" rated 5.5%, a slight increase from previous day, while MBC's "Lights and Shadows" and SBS's "Fashion King" rated 23.6% and 9.4% respectively.