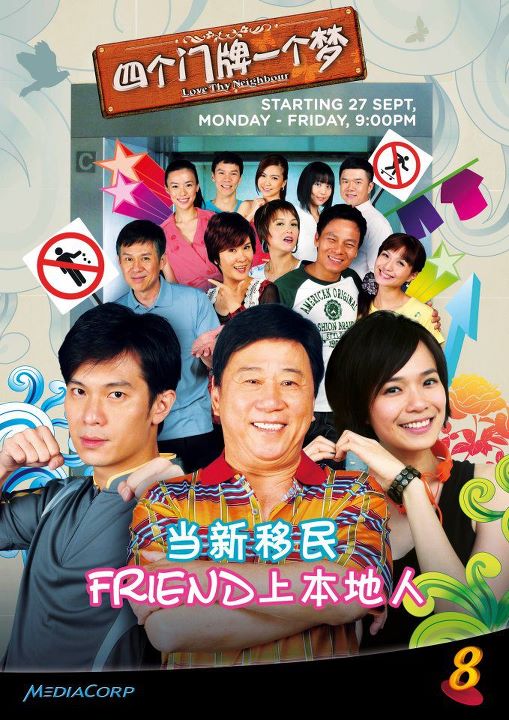 Drama Title: Love Thy Neighbour
Chinese Name: 四个门牌一个梦
Genre: Comedy
Episodes: 20
Broadcast Place: Singapore
Broadcast Network: MediaCorp Channel 8
Broadcast Period: 27 September 2011 – 24 October 24 2011
Air Time: Monday – Friday 21:00 – 22:00
Language: Chinese
Duration: 46 mins
Preceded By: Bountiful Blessings
Followed By: The Oath
Plot Summary
A drama that has brought together actors from Singapore, Malaysia, China, Taiwan, Hong Kong and America, tells the story revolves around 4 families living in a Singaporean HDB block, and the anecdotes about their own families as well as between the neighbors.
Synopsis
Ye Meng left East Malaysia to take up a job as a mechanic in Singapore. He was supposed to spend a few days sightseeing with his girlfriend before starting work. Shortly after they checked into a hotel, Bai Yufang disappeared mysteriously. While searching frantically for her, Meng encountered Wang Dafa and Wang Tianhu, a father-and-daughter pair of con artists.
Dafa conned his victims under the guise of a fortune-teller with a "magical" bird. Growing up under her father's negative influence, Tianhu became just as bad, if not worse. Meng was rendered penniless by the conniving duo, and ended up having to move in with them.
Tianhu's neighbors are Dai Guozhong and his wife Huang Ling Bo. Guozhong was a sports coach until he was replaced by a Chinese National and forced into early retirement. He was a vocal critic of the Government's foreign talent policy.
Michael was a Caucasian emigrant who spoke fluent Mandarin, the kind that the Government courted. His love for the country saw him actively involved in grassroots activities and he even joined the Voluntary Special Constabulary. Unable to comprehend Guozhong's anti-government stance, both of them frequently crossed swords with each other. The friction intensified after Guozhong's daughter Dai Peijun returned to Singapore.
Peijun is the archetype modern woman – progressive and outspoken. After her room was occupied by her elder brother and his wife while she was away, she rented a room from Crazy Knife who lived in the same block, hence becoming Michael's co-tenant. The two of them thought alike, and were baffled by Singaporeans' dissatisfaction with the country when they should be appreciative of their lot. They often clashed with the "opposition party", Guozhong. When the two fell in love with each other, Guozhong opposed to their relationship.
A PRC family moved in next door to Guozhong. After Xian He settled down in the flat with his wife and 10-year-old daughter, he soon realized that Singapore was a far cry from what he had imagined.
Xian He's income as a cameraman was only enough to cover living costs and his daughter's education. As such, he was frugal. Differences in habits erupted into tiffs between his family and their neighbours. Shan Shan, Xian He's wife, found it difficult to cope with the demands of daily living and the cultural differences. She blamed him for making the wrong decision to move to Singapore. For the sake of Xian Le's education, he refused to heed his wife's insistence on returning to China. The issue plagued their marital relationship.
Guozhong's hostility towards the Xians kept him occupied. Adding to his frustration was the fact that his son, Deliang, and daughter-in-law, Angelina, had decided to squeeze into his 4-room flat after selling their condominium unit for a good price.
A manager in an MNC company, Angelina spoke fluent English but was handicapped in Mandarin. As a Chinese-language teacher, Deliang constantly reminded her of the government's increasing emphasis on the importance of the Chinese language but his advice fell on deaf ears. Dingxin, their 9-year-old son, was neither proficient in Chinese nor English.
Angelina claimed that by moving into the flat with her family plus a maid, her in-laws would not feel lonely. In truth, she was taking advantage of them to save on living expenses. Deliang felt uneasy about the situation but the hen-pecked husband bowed to his wife's arrangements. Angelina's motive did not escape her sharp mother-in-law's eyes. Nevertheless, she eschewed the image of the quintessential nasty mother-in-law portrayed on TV. She was cordial towards Angelina on the surface but pitted against her in secret. Deliang was caught between the two women. On top of this, he faced the stress of a heavy workload as well as managing his wife and son. Being a Chinese teacher, he put tremendous pressure on his son to score well in Chinese. Unable to cope with the deluge of demands on him, Deliang developed kleptomania. The irresistible urge to steal made him live in fear of being exposed.
Meng finally located his girlfriend only to find out that she had hooked up with someone else. Just as Meng and Tianhu developed feelings for each other, their love was put to the test when Yufang appeared out of the blue to reconcile with Ye Meng.
Will the motley of nationalities from diverse backgrounds residing on the same storey live in harmony eventually?
Cast
Ha Yu (夏雨) as Wang Da Fa (王大发)
Felicia Chin (陈靓萱) as Wang Tian Hu (王天胡)
Shaun Chen (陈泓宇) as Ye Meng (叶孟)
Huang Wen Yong (黄文永) as Dai Guo Zhong (戴国忠)
Lin Mei Jiao (林梅娇) as Huang Ling Bo (黄凌波)
Cavin Soh (苏智诚) as Dai De Ling (戴德良)
Ng Hui (黄慧 ) as Angelina
Vivian Lai (赖怡伶) as Shan Shan (单珊)
Aileen Tan (陈丽贞) as Lucy (露西)
Rebecca Lim (林慧玲) as Bai Yu Fang (白玉芳)
Douglas Kung (孔祥德) as Xian He (冼赫)
Brandon Wong (黄炯耀) as Shen Jin Dao (沈金道)
Sora Ma (马艺瑄) as Dai Pei Jun (戴佩君)
Wu Luo Yi (伍洛毅) as White Chicken (白斩鸡)
Production Credits
Producer: Wang Long Hong (王龙红)
Director: Lin Ming Zhe (林明哲)
Episode Synopsis
Viewership Ratings
Episode 1 to 3 Average: 916​,000 (source)
Episode 13: 1,021,000
Overall (Average): 941,000
Love Thy Neighbour Trailers
Love Thy Neighbour Behind the Scene
Watch online with English subtitle at XinMSN or youku.com.
News and Interview
Photo Gallery