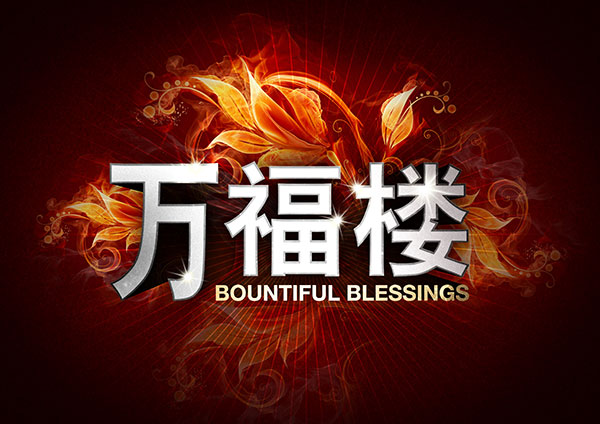 Drama Title: Bountiful Blessings
Chinese Title: 万福楼
Genre: Comedy, Family
Episodes: 20
Broadcast Place: Singapore
Broadcast Network: MediaCorp Channel 8
Broadcast Period: 30 August 2011 – 26 September 2011
Air Time: Monday – Friday 21:00 – 22:00
Language: Chinese
Duration: 46 mins
Preceded By: On the Fringe
Followed By: Love Thy Neighbour
Cast
Jessica Hester Hsuan (宣萱) as Huang Fu Xi (黄福喜)
Tay Ping Hui (郑斌辉) as Xie Dong Hai (谢东海)
Thomas Ong (王沺裁) as Tong Da Feng (童大丰)
Ann Kok (郭舒贤) as Liang Pin Hong (梁品红)
Yao Wen Long (姚玟隆) as Zhang Dan (张单)
Jeffrey Xu (徐鸣杰) as Huang Fu Yuan (黄福圆)
Koh Yah Hwee (许雅慧) as Tong Tian Qing (童天晴)
Zhu Hou Ren (朱厚任) as Huang Er Hu (黄二虎)
Adam Chen (詹金泉) as Morning
Hong Hui Fang (洪慧芳) as E Jie (娥姐)
Romeo Tan (陈罗密欧) as Ah Bang (阿邦)
Yuan Shuai (袁帅) as Roy
May Phua (潘淑钦) as Ying Ying (莹莹)
Ye Shi Pin (叶世品) as Kaya
Liang Tian (梁田) as Hong Bo (洪伯)
Bountiful Blessings Characters Description and Introduction
Production Credits
Executive Producer: Paul Yuen (袁树伟)
Story Planner: Ang Eng Tee (洪荣狄)
Plot Summary
Bountiful Blessings is one drama that's filled with magic, fairies, food, family and lots of laughs! It all started with the heavenly King of Kitchen (灶神) getting all entangled with Liang Ping Hong (梁品红) who is a poisonous flower spirit (一品红).
Synopsis
Although Zhang Dan has been deitified as the Kitchen God for a few thousand years, his mortal former wife remains his lasting regret. Thus, he peeks at her every time she is reborn, going to her rescue whenever she needs help.
One day, Zhang Dan descends upon earth to visit his former wife, now reborn as Huang Fuxi. They get intimate in a drunken stupor and Fuxi becomes pregnant as a result. To make amends, Zhang Dan decides to fulfill his responsibility by waiting till the child grows up before returning to Heaven to receive punishment.
Zhang Dan opens a restaurant, "Wan Fu Lou", as a means of livelihood for Fuxi and their son. His culinary skills receive widespread acclaim and business prospers. Unfortunately, Zhang Dan is captured and imprisoned in the celestial heavens the moment Fuxi delivers their child
Worried about his family, Zhang Dan secretly checks on them upon his release only to realise that his 10 days' incarceration in Heaven is equivalent to a decade in the mortal world. His son, Zhang Yifei, has turned 10. Fuxi's circumstances have worsened after Zhang Dan's sudden disappearance, relying on Wan Fu Lou to make ends meet.
A restaurateur eyes Wan Fu Lou and he is none other than Tong Dafeng, who almost married Fuxi if not for her "one night stand" with Zhang Dan. Heartbroken, Dafeng goes abroad to carve out a career. After slogging for 10 years, he becomes an international chef and even establishes Dafeng F & B Holdings.
Fuxi's betrayal has been Dafeng's greatest humiliation, causing him to harbour hatred ever since. He returns to make a foray into the local market but his bigger motive is to wreak vengeance on Zhang Dan and his family.
After realizing the situation, Zhang Dan frets over his family's safety and descends to the mortal world in secret to save them. He discovers the culinary skills of the streetwise Xie Donghai in a chance encounter. When Zhang Dan learns of his warrant of arrest, he uses his magical skills to land Donghai in Wan Fu Lou, not knowing that Fuxi and Donghai have a feud with each other.
Initially, Fuxi opposes vehemently to Donghai joining the restaurant. However, after tasting the latter's dishes by chance, she relents. Moreover, Donghai's culinary skills have undeniably boosted the business of the restaurant.
At this time, Dafeng opens a restaurant near Wan Fu Lou, offering similar dishes with almost the same flavours but at lower prices. Fuxi and Donghai are baffled by the fact that every time Fuxi is about to introduce a new dish, Dafeng's restaurant will beat hers to it.
All this is the doing of the flower fairy, Poinsettia, who lost her immortal status after Zhang Dan reported to Jade Emperor about her love for a mortal. Thanks to the flower fairy, Peony, Poinsettia retains her magical power of reading one's mind and lives in the mortal world under the name "Liang Pinhong". After discovering the relationship between Fuxi and Zhang Dan, Pinhong seizes the opportunity to seek revenge on Zhang Dan by harming his family. Upon gaining Dafeng's trust, she deals a series of blows to undermine Wan Fu Lou.
Although Dafeng condones Pinhong's mean ways, nevertheless, he feels uneasy. At Tianqing's advice, Dafeng decides to stop seeking revenge. Having anticipated this, Pinhong casts a spell on Dafeng to make him fall hopelessly in love with her and to join hands in dealing with Fuxi and her family.
Tianqing, Dafeng's younger sister, disapproves of her brother and Pinhong's wicked ways. She frequents Wan Fu Lou and is fond of playing tricks on Fuxi's younger brother, Fuyuan. Reticent and lacking in social skills, Fuyuan is nevertheless savvy in communicating on the World Wide Web. Tianqing often compares him with her idol Kurt, an Internet singing sensation. Little does she know that Fuyuan is none other than Kurt and that he has been secretly in love with her.
Donghai dislikes children but as he is always forced to look after Yifei, a father-son relationship gradually develops between the two. At the same time, he finds himself falling for Fuxi in the midst of their constant bickering. Unfortunately, the oblivious Fuxi fails to sense it.
Fuxi falls into Pinhong's trap, landing herself with a huge debt that forces Wan Fu Lou into a crisis. To save the restaurant, Donghai enters a grand culinary competition under the auspices of Wan Fu Lou. Pinhong goads Dafeng into participating in the event and bribes the judges. Fortunately, Dafeng snaps out of the spell in the nick of time and withdraws from the competition, leading to Wan Fu Lou claiming victory.
Wan Fu Lou manages to resume business but this causes Dafeng and Pinhong to fall out with each other, and ends with the latter seizing everything. Fuxi is touched by all that Dafeng has done for her while he expresses his wish to court Fuxi again. At this time, Donghai confesses his love to Fuxi. And when Fuxi finds out that her missing husband is the Kitchen God, she is completely flummoxed…
At the other end, Pinhong remains hostile towards Fuxi and even sets fire to Wan Fu Lou. Unbeknown to each other and with nary a scant thought for their own safety, Donghai and Dafeng dash in to rescue Fuxi who is trapped in the blaze…
Will the three of them escape this calamity? Who will Fuxi choose to be with eventually? Will Zhang Dan and Pinhong dissolve their enmity? What will become of Fuyuan and Tianqing's relationship?
Episode Synopsis
Episode Ratings
Episode 1: 863,000
Overall (Average): 848,000
Bountiful Blessings Trailers
Bountiful Blessings Movie Trailer
Bountiful Blessings OST – I Believe in You; First Time I; Happy Just Fine; Standard Answer; I Am Your Sky
Bountiful Blessings Behind the Scene Videos and Photos
Bountiful Blessings Interview
Watch online with English and Chinese subtitle at xinMSN or youku.com.
News and Interview
Photo Gallery