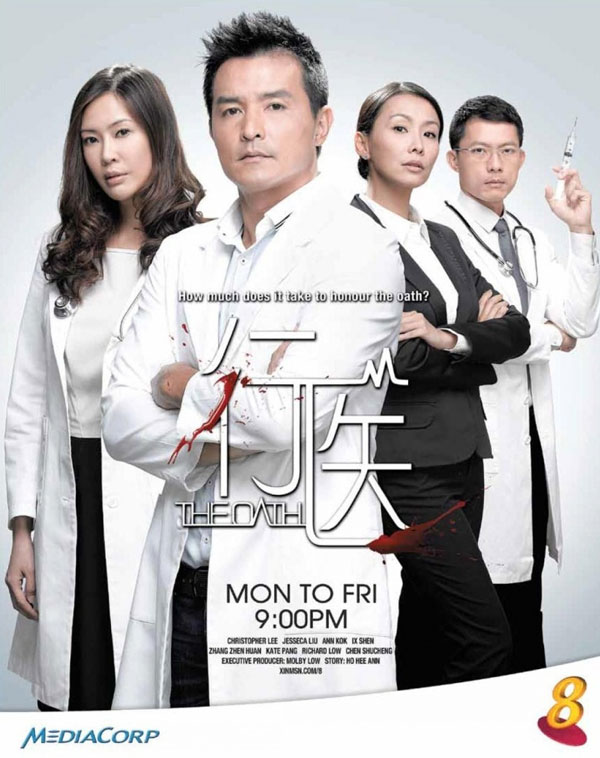 Drama Title: The Oath
Chinese Name: 行医
Genre: Family
Episodes: 20
Broadcast Place: Singapore
Broadcast Network: MediaCorp Channel 8
Broadcast Period: 25 October 2011
Air Time: Monday – Friday 21:00 – 22:00
Language: Chinese
Duration: 46 mins
Preceded By: Love Thy Neighbour
Followed By: A Song to Remember
Plot Summary
The Oath tells the story of 2 medical practitioners and their vastly different approaches to treating patients. The protagonists, a Chinese physician and a Western doctor, cannot be more different though their paths are destined to cross. Their keen competition begins when both get involved in a complex medical case.
Synopsis
Coming from Glory General Hospital, Yang Minfei is a dedicated and passionate surgeon who embraces non-traditional ways of thinking. Her precise and professional judgement on issues earned her respect in the medical field.
When she was five, she witnessed how her mother's illness was wrongly diagnosed by Chinese medical practitioners and how it delayed the much-needed treatment of her mother's illness, resulting in her eventual death. She detested the practice of Chinese medicine ever since. However, fate has it that she would meet Chinese medical practitioner, Dr Wu Guoen.
In terms of character, Guoen and Minfei are complete opposites. On the surface, Guoen is seemingly unorganized and adopts a happy-go-lucky attitude. However, deep down, he is meticulous, insightful and has a heart of compassion. Given his excellent academic record during his years in medical school, many believed that he would have become an outstanding doctor upon graduation. However, in his final year in medical school, a car accident changed his life for good.
He was on the way to his final medical paper when he witnessed the victim being trapped in an overturned vehicle. With the serious state of traffic congestion, it was apparent that the ambulance was not going to arrive on time. Guoen was aware that the casualty was suffering from internal bleeding and may even die without immediate medical attention. Without any hesitation, Guoen broke his pen into two and pierced a part of it into the victim's chest to perform phlebotomy; all so to secure sufficient time to send the victim back to the hospital for further treatment.
His heroic act attracted much criticism. As an undergraduate, he had no right to perform life-saving procedures on the victim. During an internal hearing, he insisted that his priority was to save the victim and saw no wrong in that. Due to public pressure, the medical school had no choice but to temporarily withdraw Guoen from school for a year. He could not come to consensus to the bureaucratic ways of the school and wanted to give up his study of Western medicine, only to meet with the disapproval of his parents and his girlfriend, Ye Zhiyi.
Zhiyi, who is a student of law school, has a calm composure and carries with her a strong sense of self-esteem. She has been dating Guoen for many years and they had a steady relationship — until Guoen decided to give up his studies in Western medicine. Guoen had ideas to further his studies in traditional Chinese medicine in China but Zhiyi was unable to accept his plans to leave, even threatening to break up should he go. After serious consideration, Guoen ultimately went ahead with his plans. Zhiyi was heartbroken that their relationship had to end this way.
Guoen set off for China and met a skillful practitioner of Chinese medicine. He put his mind to the pursuit of knowledge in the area of Chinese medicine and a new chapter in his life thus began.
Six years later, Guoen came back to help out in his father's Chinese medical clinic. With his newly acquired knowledge, he solves numerous difficult medical cases, aiding his father in reviving his Chinese medical clinic. Even so, he keeps a low profile, only wanting to do his best for his patients but not hankering after fame or money.
Guoen's father, Zhixiong, is covetous of little gains. He does not possess fine medical skills, but is always seen blowing his own trumpet. He never lets go of opportunities to increase his profits. Guoen's mother, Qingmei, being an executive member in her clan association, is a warm-hearted lady who is always eager to help others. Despite the change in Zhiyi and Guoen's relationship, Qingmei still keeps in contact with her. She is fond of her and treats her like her own.
Zhiyi and Guoen met again six years later. Zhiyi is now a renowned and accomplished lawyer. She is still relentlessly in love with Guoen, but she chose to remain as friends, her self-esteem stopping her from revealing her true feelings. She has been hoping that Guoen will want a reunion, but the appearance of Minfei is making her increasingly insecure. Her sixth sense tells her that Guoen has special feelings for Minfei.
Guoen and Minfei are rising stars in the Chinese and Western medical field respectively. They were supposedly two parallel lines that would never have met, but a series of events resulted in the crossing of their life paths…
A newly-married couple were at their wedding dinner when the husband suddenly collapsed and died from a heart attack. His wife, Yunwen, could not accept the fact and went into depression. Her parents brought her to hospital and Minfei was the doctor in charge. With the help of medication, Yunwen changed for the better but relapsed when she was discharged.
Yunwen's parents were so worried they went to several temples to pray for her health and some friends recommended them to find Guoen. After doing a thorough check of her illness, Guoen gave her some prescriptions. Minfei found out and advised the parents to cease seeking Chinese medical treatment. She was suspicious of Guoen and got into an argument. Their first impression of each other was not a good one.
After two days of Chinese medicine, Yunwen did not change for the better, making her parents worried again. Minfei continues to insist that Guoen is a quack doctor who is only capable of complicating matters. Guoen requests for a one-to-one meeting with Yunwen, leaving Minfei and Yunwen's parents bewildered outside the room. All of a sudden, a shout of "Impossible!" rang out, after which Yunwen fainted and fell.
Yuwen's parents gave Guoen a telling off, in which Guoen calmly explained that he was only trying to save her. Minfei found his explanation absurd.
Surprisingly, Yunwen's condition improved miraculously after she regained consciousness. She was no longer contemplating suicide nor drowning herself in her sorrows. She recovered fully after a month of treatment.
Minfei later found out that Guoen actually exposed Yunwen to her husband's extramarital affair, and that the third party is even carrying his child. He explained that her husband committed suicide as he was unable to handle the stress that he was dealing with.
Minfei was suspicious of the credibility of the story and questioned Guoen about it. He admitted that it was a lie and explained that he lied to unravel Yunwen's unhealthy emotions. His aim was only to save her — should she be unable to let go of her feelings, undesirable consequences will fall into place. He hopes her husband would not blame him for tarnishing his reputation. Although Minfei cannot concur with his methods, she cannot help but start to admire Guoen's perseverance and intelligence when trying to save people.
Minfei and Guoen met again when he went back to the hospital to visit his mentor, Professor Zheng. Professor Zheng is keen on setting up a Chinese medical research department within the hospital, combining the benefits of both Chinese and Western medicine to produce higher quality treatment for the patients.
Minfei could not understand why Professor Zheng held Guoen with high regards until a senior anesthetist explained Guoen's past. Guoen and Prof Zheng's son, Dewei, were the top two students in school. They were good friends and competitors. They were destined to become top doctors together until Guoen got into trouble and left. Without Guoen, Dewei graduated with top honours and became the hospital's number one surgeon. Minfei was surprised to know of their past.
Dewei's good looks and top skills made him a celebrity doctor. Many from the upper ranks of society specially requested for him to carry out their operation. He has an inexplicable sense of jealousy towards Guoen's gift in medicine, and with his mother full of praise for Guoen, he saw him as a strong competitor that he cannot lose to. Dewei has many suitors, but he only has eyes for Minfei. He never thought that Guoen would also become his rival-in-love.
Guoen and Minfei started to go out together but good times did not last. He found out that Zhiyi was too stressed up about work and relationships and started developing symptoms of depression. He feels bad for neglecting her and wanted to cure her of her illness. Zhiyi became too over-dependent on Guoen and started to affect the relationship between Guoen and Minfei.
Guoen could not decide between them and Minfei was the one who voluntary stepped out, saying Zhiyi needed him more.
Minfei has been in low spirits for some time and her father is getting concerned, but her negative feelings towards him ignited a quarrel between them. She left for Pulau Ubin to take a break from her usual life. Her father, Liming, suffered a stroke while alone at home. When Minfei heard the news, she rushed to the hospital only to hear that his condition was very serious.
Minfei felt terrible for not being there for her father. Guoen remained concerned about her and unwittingly found out a secret about her mother that could have serious implications on Minfei's future.
At that time, Minfei's mother was diagnosed with a disease that affected her immune system. This disease had a long incubation period, and can lead to paralysis, organ failure, death and the most intimidating factor was that it could be inherited. Minfei was only five years old then and her parents were not willing to burden her with such depressing knowledge. They chose to hide the truth from Minfei. Even when her father, Liming, was misunderstood by his own daughter, he took it in silently, just so that Minfei could carry on with her happy and carefree life.
When Minfei learnt about the truth, she finally understood her father's difficulties. She broke down in front of her father to ask for his forgiveness. Liming did not blame Minfei and only hoped that she could be happy. The misunderstanding between them was cleared at last.
Minfei understands the possibilities of contracting the disease herself and that she might not be able to live past age 35. Guoen wants to stay by her side till the end but Minfei just wants them to remain as friends.
Cast
Jesseca Liu (刘子绚) as Yang Min Fei (杨敏妃)
Christopher Lee (李铭顺) as Wu Guo En (吴国恩)
Ann Kok (郭舒贤) as Ye Zhi Yi (叶芝仪)
Ix Shen (沈倾掞) as Guan De Wei (关德伟)
Zhang Zhen Huan (张振寰) as Guo Jian Zhong (郭建中)
Kate Pang (庞蕾馨) as Huang En Yun (黄思云)
Richard Low (刘谦益) as Yang Li Ming (杨立明)
Chen Shu Cheng (陈澍城) as Wu Zhi Xiong (吴志雄)
The Oath Characters Description
Production Credits
Executive Producer: Molby Low (刘健财)
Story Planner: Ho Hee Ann (何启安)
Episode Synopsis
Trivia
The Oath is produced by Wawa Production studio, and it's the first drama from the studio that is been broadcast on prime time 9pm slot on Channel 8.
Viewership Ratings
Episode 1 & 2 (Average): 895,000
Episode 1 to 16 (Average): 910,000
Episode 20: 1,074,000 (source)
Overall Average: 915,000
The Oath Trailers
The Oath Behind the Scene and Interview Video Clips
The Oath "Do You Know?" Medical Knowledge Video Clips
The Oath OST (Opening Theme Song) – Save Life
The Oath OST (Insert Song) – Seas Run Dry and Rocks Crumble
The Oath OST (Insert Song) – Must Be Happy
The Oath OST (Insert Song) – The First Memory
Watch online with English subtitle at youku.com.
Photo Gallery