Your Rating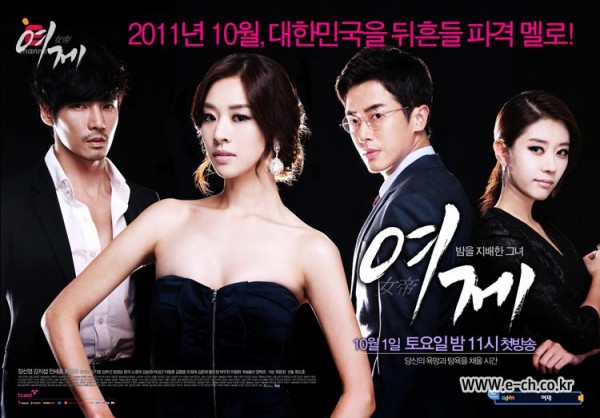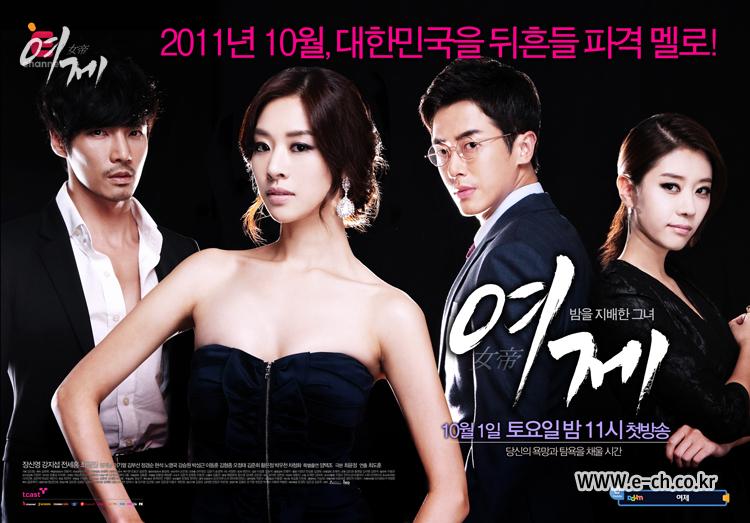 Drama Title: The Empress
Korean Title: 여제
Also Known As: Yeo-je
Chinese Title: 女帝 / 女皇
Genre: Drama
Episodes: 13
Broadcast Place: South Korea
Broadcast network: E-Channel
Broadcast period: 1st October 2011 – 24th December 2011
Language: Korean
Air time: Saturday 11:00 PM
Plot Summary / Synopsis
This drama depicts a woman who rises up and takes revenge on the people who stepped on her life and caused her to work in prostitution circle.
Seo In Hwa (Jang Shin Young) is a college student studying painting at a prestigious university. She hopes to live a life that is different from her mother who is a hostess, but she is trampled over and dallied by men with power and money. Because of this, Seo In Hwa becomes a hostess. She overcomes hardships to become the best in her field. She then seeks revenge on the men in power who destroyed her life and cause her mother to die.
Cast
Jang Shin Young / Jang Sin Yeong (장신영) as Seo In Hwa (서인화)
Kang Ji Sub (강지섭) as Jung Hyuk (정혁)
Jung Kyung Soon (정경순) as Jeong Si-hwa (정시화)
Jun Se Hong (전세홍) as Choi Yoo Mi (최유미)
Choi Phillip (최필립) as Park Hyung Il (박형일)
Kim Hyung Jong (김형종) as Jang Tae Soo (장태수)
Myung Kye Nam (명계남) as President Kong (공 사장)
Kim Bu Sun (김부선) as Seo Mi-yeong (서미영)
Hyun Suk (현석) as Par Sang-beom (박상범)
Lee Ki Yeol (이기열) as Director Je-gal (제갈 상무)
Junie Kim (김준희) as Kang Ae-ri (강애리)
Hwang Eun-jung (황은정) as Cho Na-hee (초나희)
Lee Dong-hoon (이동훈) as Lee Yong-gyoo (이용규)
Production Credits
Director: Choi Do Hoon (최도훈)
Screenwriter: Choi Yoon Jung (최윤정)
Episode Synopsis
Trivia
The Empress is based on adaptation from Jotei Kaoruko (女帝薫子), a 2007 Japanese manga by Ryō Kurashina.
Watch online with English subtitle at viki.com.
Watch online with Chinese subtitle at letv.com, tudou.com or youku.com.
Photo Gallery