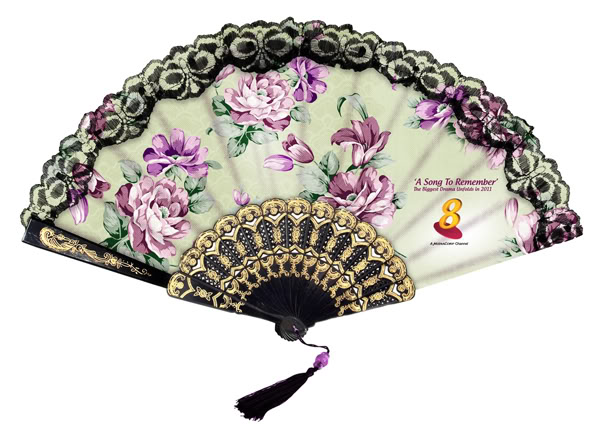 Drama Title: A Song to Remember
Chinese Name: 星洲之夜
Genre: Musical, Romance, History
Episodes: 30
Broadcast Place: Singapore
Broadcast Network: MediaCorp Channel 8
Broadcast Period: 22 November 2011
Air Time: Monday – Friday 21:00 – 22:00 PM
Language: Chinese
Running Time: 46 mins
Preceded By: The Oath
Followed By:
Plot Summary
A song and dance drama about the love and hatred between a musician and two songstresses.
Synopsis
Cabaret was the rave in the 30s and 40s. Troupes from Shanghai, Southern China as well as local cabaret groups thronged the scene and enlivened the night. Reveling in song and dance drowned out anxieties of the impending war and blues of the real world. Set in this backdrop, this drama serial relives the glittering Singapore nightlife of old.
The flames of war ignite in the 1940s. Swaying in the midst of a raging turmoil, Yu Hong and Song Qiao-er, rivaling doyennes of Shanghai Li Ming Troupe, fight it out on stage. As Qiao-er vows to remove the thorn in her flesh, Yu Hong retaliates.
Mo Li Guang, a young musician from Shanghai, arrives on the eve of the outbreak of World War II in Singapore. A bookish "cultural youth", he indulges in fantasy and music. His insensitivity to mundane affairs often lands him in comic situations. He develops feelings for Yu Hong after meeting her on- board the ship to Singapore.
Li Guang's aunt is a vicious landlady who puts him in charge of collecting rents from the difficult tenants of an old building. Taunted by a motley bunch of characters, he is helped by Liu Jiumei from being driven back to Shanghai by his aunt.
Jiumei is mistreated by her adopted mother to sing for a living, and ends up being bullied as a "soda girl" at New World Nightclub. An optimistic girl by nature, she daydreams about making a debut on stage. She falls for Li Guang after a series of tribulations but suppresses her love for him because his heart is with Yu Hong.
The captivating Indian, Malay, Peranakan and Western dances inspire Li Guang to compose songs for Jiumei. Both are the quintessential composer and singer duo.
The rivalry between Yu Hong and Qiao-er intensifies when they come to Singapore. Qiao-er works her charms on tycoon Xu Kun in the hope of eliminating Yu Hong, but the latter counter-attacks by sexual seduction to rise as the doyenne of the troupe and a star in Singapore.
Yu Hong ropes in Li Guang to the troupe and redeems Jiumei from the brothel. Jiumei is filled with gratitude for her savior but Yu Hong realizes that Jiumei's talent for singing and dancing poses a threat to her. She tries to stunt her popularity but the latter makes tremendous progress under Qiao-er's mentorship. To safeguard her position, Yu Hong seeks to destroy Jiumei, just like how she was previously victimized by Qiao-er.
To raise funds for the medical costs of a neighbour's infant, Jiumei and Li Guang call on everyone to participate in a spectacular street show – "Night of the Stars". Jiumei becomes an overnight sensation and banking on her fame, Jiumei's adopted mother sells her to a rogue businessman to be his minor wife. How will Li Guang save Jiumei from the devil's clutches? Will he choose to love Yu Hong or Jiumei eventually? In the chaotic period leading to a world war, what is the fate of everyone?
Cast
Qi Yu Wu (戚玉武) as Mo Li Guang (莫理广)
Joanne Peh (白薇秀) as Yu Hong (于红)
Eelyn Kok (郭蕙雯) as Song Qiao Er (宋巧儿)
Julie Tan (陈欣淇) as Jiu Mei (九妹)
Desmond Tan (陈泂江) as Luo Xiao Xiao (罗小小)
Chen Han Wei (陈汉玮) as Xu Kun (许昆)
Pan Ling Ling (潘玲玲) as Hua Gu (花姑)
Rayson Tan (陈泰铭) as Hei She (黑蛇)
Cynthia Koh (许美珍) as She Sao (蛇嫂)
May Phua (潘淑钦) as Ah Cai (阿彩)
Priscelia Chan (曾诗梅) as Fan Shu Sao (番薯嫂)
Jin Yin Ji (金银姬) as Ba Jie (八姐)
Yao Wen Long (姚玟隆) as Luo Da Da (罗大大)
Alan Tern (唐育书) as Wang Jin Tu (王金土)
Wang Yu Qing (王昱清) as Chen Ji (陈积)
A Song to Remember Characters Description
Production Credits
Executive Producer: Chia Mien Yang (谢敏洋)
Screenwriter: Ang Eng Tee (洪荣狄)
Episode Synopsis
Viewership Ratings
Trivia
The production of the drama started from June 2011, and filming took place in Shanghai at the movie set of Bodyguards and Assassins "十月围城" (starring Donnie Yen, Nicholas Tze and Leon Lai) and some parts of Malacca.
Watch online with English subtitle at youku.com.
Photo Gallery