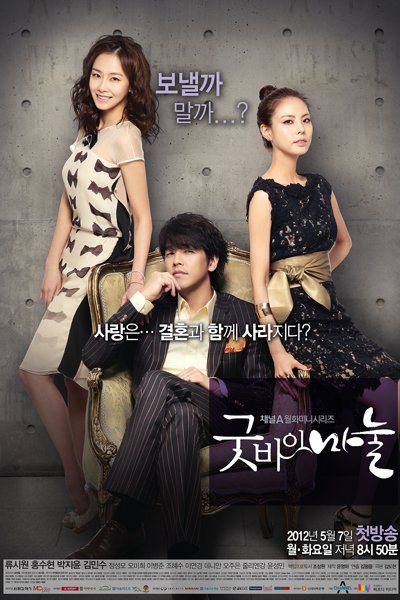 Drama Title: Goodbye Dear Wife
Korean Title: 굿바이 마눌
Romanization Pronunciation: Keutbai Manool
Chinese Name: 再见, 老婆
Japanese Name: 妻よさらば
Genre: Family, Romance, Comedy
Episodes:
Broadcast Place: South Korea
Broadcast network: Channel A
Broadcast period: 7 May 2012
Language: Korean
Air time: Monday and Tuesday 8:50 PM
Preceded By: The Strongest K-POP Survival
Followed By:
Plot Summary
Goodbye Dear Wife" is a romantic comedy that tells the story of a couple who has married for 5 years, and starts to develop sense of boredom to each other. The thoughtless husband dreams of reuniting with his first love, and a wife gets confused when her long time lover who dumped her returns. As the result, they divorce, but only to discover that their true love is each other after a series interesting events.
Synopsis
Cha Seung Hyuk is the CEO of a famous sports center and has been married for 5 years. In his past, he was a famous fighter with good looks. Cha Seung Hyuk then married Kang Sun Ah who was about to become a nun. Because of their marriage, Cha Seung Hyuk became even more popular as a romanticist. Since then, he has partaken in lots of commercials and has become an ideal man for women.
In real life though, Cha Seung Hyuk did love his wife deeply, but with the passage of time, the love no longer has passion, and he is sick of married life, and is only maintaining the marriage of responsibility. However, his wife Sun Ah has known that her naive and immature husband is dreaming of reuniting with his first lover. So they divorce, and he says goodbye to his wife, while both of them secretly monitoring the actions of each other.
Cast
Ryu Shi Won (류시원) as Cha Seung Hyuk (차승혁)
Hong Soo Hyun (홍수현) as Kang Sun Ah (강선아)
Kim Min Soo (김민수) as Kim Hyun Chul (김현철)
Park Ji Yoon (박지윤) as Oh Hyang Sook (오향숙)
Julien Kang (줄리엔 강) as Kang Goo Ro (강구로)
Danny Ahn (데니안) as Gye Dong Hee (계동희)
Lee Yun Kyung (이연경) as Lee Hae Sim (이해심)
Oh Joo Eun (오주은) as Joo Ji Ae (주지애)
Production Credits
Director: Kim Pyung Joong (김평중)
Writer: Kim Do Hyun (김도현)
Synopsis by Episode
Episode 13
Episode 14
Episode 15
Episode 16
Viewership Ratings (Ranking)
| | | | |
| --- | --- | --- | --- |
| Date | Episode | Nationwide (AGB) | Seoul (AGB) |
| 7 May 2012 | 1 | 0.840 | |
| 8 May 2012 | 2 | | |
Source: AGB Nielson
Trivia
The drama is the comeback project for Ryu Shi Won after 3 years hiatus.
Official Site
Official Photo Gallery
Watch online with English subtitle (not yet available).
Watch online with Chinese subtitle (not yet available).
Photo Gallery